When we ignored telling warning of the devil and paid with rivers of blood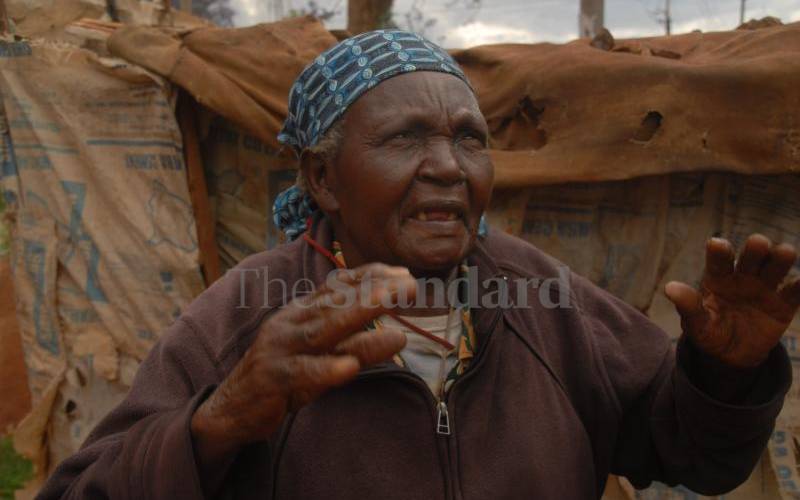 Months to the 2007 General Election, security agents and the media could smell violence. Rogue politicians had sounded drums of war with inciting slogans. Amazingly, no action was taken to pre-empt the catastrophe that led to about 1,500 deaths, destruction of property and reversal of economic growth from a record 7 per cent to negative 0.3.
I start with recap of an incident last week. Early the dawn of Tuesday, Interior Cabinet Secretary Fred Matiang'i had to cancel his morning engagements and fly to Molo in Nakuru where goons razed the home of Chief Mwangi Kiiru.
The CS vowed the government will not only hunt down perpetrators of the crime but get to know the masterminds and what networks they have on the ground. It is said when you see a dog attacking, get to know its owner.
It will be recalled Molo was the epicentre of politically incited violence in 1992, 1997 and 2007. The District Officer in the area during one wave of the violence is today an elected leader in Mt Kenya region. In March, boda boda riders in his area raided a hospital and freed their colleague. Two police officers guarding the crime suspect were over-powered.
And this week, he told boda boda riders that there is plan to rig a by-election, named a police station where the alleged rigging would be done, and told them "to do something" about it.
Pre-emptive action
The Molo incident came just a day before CS Matiang'i and Interior Principal Secretary Karanja Kibicho met regional and county commissioners to discuss strategies for pre-emptying violence in the General Election next year.
The CS emphasised a pro-active approach where the State will have conversations with clusters of citizens – the youth, faith-based institutions and community leaders – on the need to keep the peace.
Dr Kibicho spoke of the need to map out potential hot spots as well as identify trouble-makers. He said boda boda riders will be very attractive to politicians as powder keg to ignite violence since are they readily available as organised groups with a chain of command. He also spoke of the need to partner with the media in gathering intelligence. It will be recalled that sections of the media were used as instruments of incitement in the countdown and aftermath of 2007 violence.
When Satan visited
Enough of scenarios ahead of elections next year. Today, memories are of the 2007 tragic election. Below are extracts from my diaries.
Friday, October 26
My friend and I drove to Eldoret to visit his relatives who owned a business in the town. Over a meal in the evening, we were given a grim picture ahead of the elections scheduled for December 27 that year. We were told communities from different ethnic backgrounds who had co-existed for decades and even inter-married were being incited to treat the other as enemies. Suddenly, neighbours had stopped interacting and were boycotting businesses owned by those they were told were the "enemy".
Driving around the town at night, we couldn't fail to notice the eerie atmosphere unlike the robust town Eldoret has always been.
Monday, October 29
Back in Nairobi where I was the News Editor for a weekly newspaper, I assigned our correspondent in the North Rift to go on the ground and do a story on the prevailing political atmosphere.
Friday, November 3
We published the story that told of the tensions and incitement by rogue politicians. On reading the story, a friend in the security services asked for a meeting to compare notes. From our conversations, I gleaned the security apparatus was very much aware of what was going on.
Tuesday, December 25
Christmas Day was clouded by anxiety over the elections about to come in 48 hours time.
I travelled from Kisii to drop a friend registered to vote there. I spent the night at a hotel where most journalists covering the elections were booked and compared notes about the situation on the ground. Everybody painted a gloomy picture.
Wednesday, December 26
All hell broke loose. A hired bus ferrying Administration Police officers in Nyanza was intercepted, torched and three officers killed. Violence was also reported in Uasin Gishu, Nakuru, Nairobi and Coast.
In the evening I had a conversation with a hotel owner in Kisumu who advised me to leave the town if I wasn't on official duty and was not travelling in a convoy with other journalists.
Thursday, December 27
On the voting day, I left Kisumu early. It was clear all wouldn't end well. Groups of youth were already setting up roadblocks as they burned tyres. In Kericho, a colleague advised I get lost fast if I had no official business in town. A colleague in Elburgon town advised the same. I couldn't believe this was my country and I was being advised to flee.
Sunday, December 30
I resumed duty and was at the KICC presidential tallying centre in the afternoon. The place was literally a war zone, with hundreds of GSU and riot police in combat gear. I remember the then Commissioner of Police Major-General Hussein Ali coming to where we were and being asked why there was such a heavy presence of police. His answer: "Why would you journalists or any member of the public get scared by security presence if you haven't committed a crime?"
We proceeded to the press centre where the Electoral Commission of Kenya chairman Samuel Kivuitu would be announcing the final results. Within minutes the place was crammed with politicians shouting and daring their rivals to fisticuffs. It was a madhouse.
When it came clear no business could be conducted in the insane environment, Police Commissioner Ali marched in and ordered everybody out. As we hesitated, the red berets (GSU) marched in. Everybody took to their heels. One woman politician, who is still active in politics, had to remove her shoes for faster mobility.
Meanwhile, Ali whisked away Kivuitu to a room upstairs where he announced the results exclusively to the State-owned broadcaster, KBC.
Minutes later Ali and the ECK chairman were off to deliver the certificate to the declared winner, President Mwai Kibaki, and witness his swearing-in for a second term. Within an hour, the country was in flames.
Postscript: Testifying before the Waki Commission on 2007/2008 post-election violence, then director of the National Intelligence Service Michael Gichangi disclosed that they had identified trouble spots long in advance and recommended what needed to be done. It has never been explained what went wrong that we ended up in disaster.
Pray it never happens again.