Postponing next year's elections not an option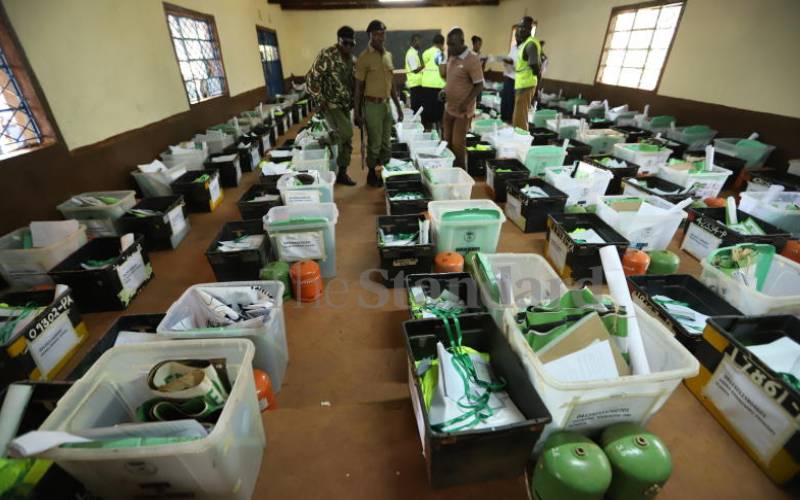 "The greatness of any nation lies in its fidelity to the Constitution and adherence to the rule of law and above all respect to God."
Those were the words by former Chief Justice David Maraga in September 2017 when Kenya was going through a tumultuous time.
A presidential election had been annulled by the Supreme Court, a decision met with both jubilation and gnashing of teeth.
History had been made and it was back to the drawing board.
Those sobering words by Maraga have lingered on ever since and have much weight now when the Constitution is seen to be under attack by those in the highest offices.
And with just 13 months to the 2022 General Election, the latest indication that the Constitution is being attacked is the call for the postponement of the elections slated for August 9, 2022.
Null and void
The suggestion to postpone the polls by a year or two so the Constitution of Kenya (Amendment) Bill 2020, better known as the Building Bridges Initiative (BBI) Bill, can be passed, has caused an uproar in some quarters.
In others, it comes as a glimmer of hope considering that the fate of BBI hangs in the balance at the Court of Appeal.
Does Kenya have to postpone an election to satisfy the political class?
Do we need to circumvent the law because a few people did not get what they wanted from an intended political wave in the name of BBI?
Certainly not.
If anything, this is not even a conversation we should be having, given our elections history and the attendant chaos.
In May 2020, the High Court slowed down the BBI vehicle, declaring the constitutional amendment drive null and void.
The decision caught most politicians flat-footed.
It was this constitutional amendment dream that was their lifeline.
A possible referendum would serve as a momentous-building activity for them, just enough to win them another chance at power.
Now they are groping in the dark.
Could it be that the postponement of the next General Election is their only chance of salvaging their political careers?
Where there is smoke, there is fire.
I will not dismiss these calls as coming from a lone ranger.
That it has been publicly stated means it is an idea being considered by the political class.
History also reminds us that person who spoke about the postponement of the elections has in the past hinted at political moments that seemed impossible but eventually came to pass.
The Constitution is clear on how and when the polls should be held.
Article 102(2) reads that postponement of elections can only happen when Kenya is at war.
Wishful thinking
And in this instance, Parliament may by a resolution supported by at least two thirds of the members of each House, from time to time, extend the term of Parliament by not more than six months at a time.
Article 102(3) stipulates that Parliament's term shall not be extended under clause (2) for a total of more than 12 months.
Politicians are clearly engaging in wishful thinking if this is the route they intend to take.
But knowing how this country works, we must not dismiss these calls.
The law has been disregarded several times before and this is an opportunity for Kenyans to remain vigilant and protect the Constitution at all costs.
If we do not do that, we might set a precedent where politicians gang up to disregard the law and work with their own timelines when they do not get what they want.
Kenya is bigger than any individual and whatever ambitions they harbour.
Download the BBI Judgement by all seven Judges - Civil Appeal No. E291 of 2021