The late President Magufuli was a real colossus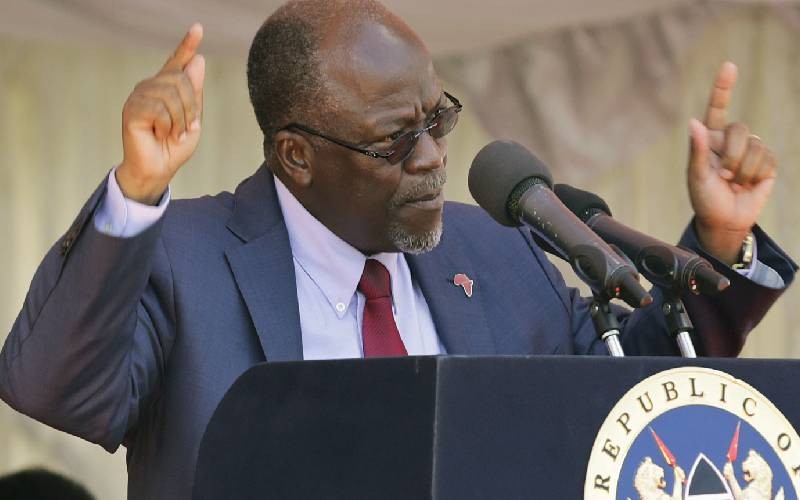 Described by Graeme Ewens as the Congo colossus, Franco Luambo Luanzo Makiadi, fondly referred to as "Le Grand Maitre", was larger than life. A dynamic guitar stylist, he was a "fearless satirist and witty social commentator with a mission to provoke and disturb the truth". His music was one of the few consistent factors in African life, recognised from Lusaka, Libreville, all the way to Dakar. His all-powerful band Orchestra TPOK Jazz captured the hearts and minds of multitudes in Africa, leaving a lifelong lasting impression.
Leading a star-studded outfit, Franco was ruthless, yet charming, and also organised extremely well. In stature, Franco was unequalled. He commanded the stage like no other African musician of his generation. African presidents paid him unmatched homage, placing him on a very high pedestal. The death of this "cultural figurehead" caused overwhelming grief in Zaire (DRC) and across Africa. He is still revered today, 32 years after his death, his songs refusing to die.
No one imagined the emergence of another icon, albeit in a political office, to provoke passions of such overwhelming proportions and incredibly so within a short space of time. Like with Franco in the music scene, John Pombe Joseph Magufuli showed Africa and the world leaders like never before. He was audacious, enterprising and authentic.
Bahar Kaya and Osman Karatepe argue that authentic leadership is a root construct for transformational leadership. They further assert that these leaders are hopeful, optimistic, confident and ethical. Authentic leaders nurture positive psychology among their followers by promoting self-awareness, internalised moral perspective and relational transparency. This description is a perfect fit for the character of the late President Magufuli. Indeed in him, ordinary Tanzanians found their voice with pride.
Then came his sudden death and there was an outpouring of grief. What was seen in Dar, Mwanza, Dodoma and Chato are unprecedented. Magufuli had struck a special bond with his people. Throwing caution to the wind, they risked their lives and mourned their hero and in one accord dared the dark force that is death.
In the process, they made a powerful statement that echoed across the globe that one could read or interpret to mean "we will stand with you and die with you if need be" in its literal sense. It takes something special for the masses to show this level of solidarity notwithstanding the concern that he may have succumbed to complications related to Covid-19, ironically so and as alleged by Tanzania's opposition doyen Tundu Lissu.
In dissecting his leadership philosophy, one finds that Magufuli succeeded in rallying his countrymen against a "common enemy", real or imagined. In one shape or the other, a metaphoric narrative emerged and became effectively embedded on "us against the rest of the world" endearing him to the populace. The early and isolated signs of resentment quickly died upon his death.
The social media fallacy had been debunked. Tanzanians were united in grief and readily demonstrated their pain. Shouts of Jeshi Jeshi rent the air on all roads that his body was paraded. Commentators lamented the demise of mtetezi wa wanyonge. Women spread their shukas and kikois for his convoy to drive through, men swept the roads with twigs, the young and old wailed and former President Jakaya Kikwete proclaimed his friendship to the fallen idol to dispel fears of disquiet between them.
So what propels a leader to this level of self-sacrifice? What motivates this unrepentant adoration? This will be a question for scholars to interrogate. Tough as steel, unassuming and unapologetic, they still loved him. Unconfirmed reports suggest that more than 3.9 billion people worldwide viewed the events in Tanzania during this period. John Pombe Joseph Magufuli the little poor boy from Chato has made history. Many African leaders will want to know his secret.
As ably put by Malawian President Lazarus Chakwera, "you never saw Magufuli coming…! The incoming President Samia Suluhu Hassan has described him as strong-willed but charming, an attribute that humanised the Bulldozer. It is on record that President Uhuru Kenyatta and Magufuli shared light-hearted banter on the telephone at Ambassador Monica Juma's expense. He was a gifted "mcheshi."
In him, there is a template African leaders can draw from. He has left an indelible mark in Tanzania and the world. Suluhu has the unenviable task of completing his work. John Pombe Joseph Magufuli has died having "provoked and disturbed" Tanzania. For those who took a dim view on what he did for his people and how Magufuli got something right.
Mr Rowa is a doctoral candidate and CEO of Shajuls Business Consulting. [email protected]
Covid-19 is real
The number of close relatives who have died from this disease has doubled and a friend showed me a list of 12 family members who have succumbed.