Tanzania President John Magufuli dies of heart disease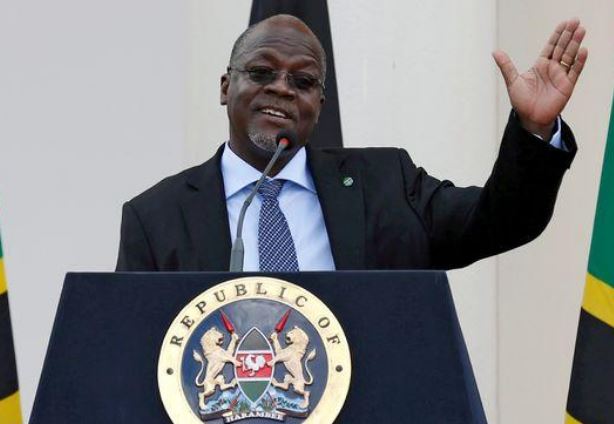 Tanzania's fifth President John Pombe Magufuli has died of heart disease, Vice President Samia Hassan Suluhu announced Wednesday, 17, March 2021.
A visibly gutted Vice President Hassan announced 14 days of mourning and that burial arrangements were underway. Flags will fly half-mast.
"Dear Tanzanians, it is sad to announce that today 17 March 2021 around 6 p.m. we lost our brave leader, President John Magufuli who died from heart illness at Mzena hospital in Dar es Salaam where he was getting treatment," the vice president said on Tanzania Broadcasting Corporation (TB).
According to Tanzania's Constitution, VP Hassan, 61, should assume the presidency for the remainder of the five-year term that Magufuli began serving in 2020 after winning a second term. She would be the the East African nation's first female president.
Born on October 29, 1959, in Chato Tanzania, he is survived by his wife Janet his daughter Jessica and son Joseph.
He was elected Tanzania's fifth President in 2015 on a CCM ticket and was serving his second term after winning in the 2020 election with a landslide.
Last week unconfirmed reports had it that the Magufuli had been flown to Nairobi in an air ambulance and admitted in a private hospital in Kenya's capital. This came after two weeks of no public appearance by a president that Tanzanians were used to seeing on television up to four times a week.
A Covid-19 denier
Initially, Magufuli was a Covid-19 denier pushing the idea that the virus that causes the disease might have been invented by the "enemies of Africa".
He discouraged Tanzanians from wearing masks lest they were laced with the virus that causes the disease. He, instead advocated the power of prayer against the pandemic.
Consequently, streets in Dar-es-Salaam and other Tanzanian towns were devoid of mask-wearing residents who frowned at anyone wearing the protective face cover.
Stadia would be full to the rafters as would busy shopping centres. At one point, Tanzanians even staged a Covid-19 eviction party.
However, he dropped the hard-line stance when the disease started claiming the lives of prominent Tanzanians among them big shots in his government. He also relaxed his position on masks but advised Tanzanians to only use locally-manufactured ones.
Tanzanian Opposition leader Tundu Lissu
Recently Tanzanian Opposition leader Tundu Lissu drew fire on Twitter for his updates on the health of President John Magufuli.
No stranger to controversy, Lissu tweeted that the Tanzanian head of state had been transferred to India after his condition worsened at a Nairobi hospital.
Standard Digital was unable to verify this claim.
Tanzania police also arrested a man, AP reported, for allegedly spreading false reports that Magufuli was seriously ill in the Kinondoni area of Dar es Salaam.
"There are a lot more who have been spreading false statements. We will arrest them all," Kingai said, according to AP.
Personalities in Tanzania who have died recently
The first high-profile death was that Seif Sharif Hamad -Zanzibar's First Vice President on February 17.
The government did not state the cause of the death but ACT-Wazalendo party said Hamad and his wife had tested positive for Covid-19.
Barely a week later, Prof Benno Ndulu, a former Bank of Tanzania Governor, died on February 22. Details on the cause of his death were scanty.
Other deaths, not necessarily of Covid-19, were those of:
- Benjamin Mkapa - Retired President
- Dr Servacius Likwelile - Former Finance and Planning permanent secretary
- Ambassador John Kijazi -Tanzania Chief Secretary
- Dr Muhammed Seif Khatib - A politician who held several ministerial positions during the administrations of former presidents Benjamin Mkapa and Jakaya Kikwete. Khatib died on Monday, February 15 in Unguja, Zanzibar.
- Atashasta Nditiye - Mohambwe Constituency MP and former Deputy Minister for Works. Nditiye died on February 12 at the Benjamin Mkapa Hospital in Dodoma.
- Bakari Mwampachu - Ex-minister of Justice and Constitutional Affairs.
- Prof Gaudence Mpangala - Lecturer at Ruaha Catholic University, political analyst.
- Dr Peter Mamiro – Lecturer Sokoine University of Agriculture.
- Prof Delphina Mamiro - Lecturer Sokoine University of Agriculture.
Recently the Catholic Church in the country announced that 60 nuns and 25 priests had died in Tanzania in the last two months after showing symptoms of the coronavirus and warned the country to take Covid-19 precautions more seriously.