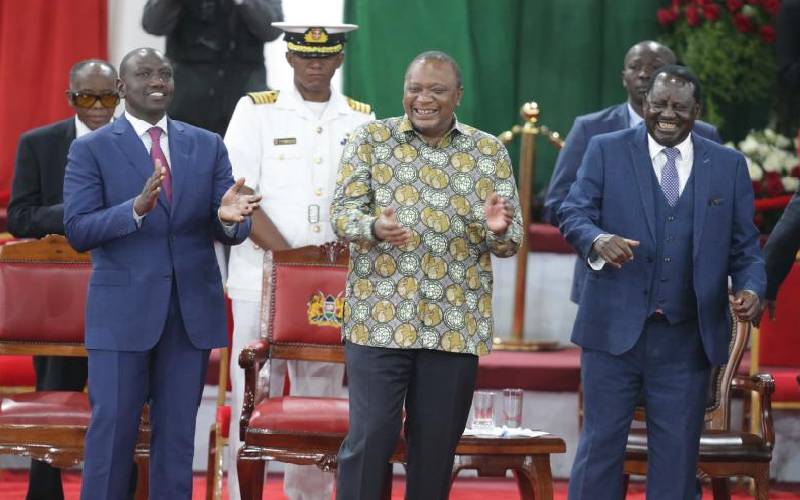 The next General Election is scheduled for August 9, 2022 ceteris paribus. The year 2021, therefore, is a sporadic site of political reckoning. It's going to be a boiling pot of political duplicity, building and burning bridges, mass retirement of governors, senators and legislators.
During this year, the handshake will stand or break, Ruto will resign or remain, the Building Bridges Initiative (BBI) will fail or pass. Shocking political shifts are underway. It's a political roller coaster for Uhuru, Ruto and Raila.
The year 2021 will be characterised by shocking political betrayals and new loyalties, coalitions and new political realignments. There will be communal political inclusion and exclusion. Heavens will draw political lines in regions, especially Kisii, Mombasa and Central. In these places, a few politicians who will go against mass political inclinations will have their political obituaries written— thus, ethnopolitical oligarchs will begin with these regions.
Starting January, ODM might covertly demand that Uhuru does like himself (acheze kama yeye) regarding Ruto. Because of this, ODM will over dominate the BBI campaign drives. Thus, BBI will be Orange in colour, and Jubilee will be 'turn boys'.
Read More
In the Nairobi governorship race, ODM will be reluctant to front a candidate. Jubilee, methinks, is saying: "You squandered your chance in Msambweni." But, if ODM will have a candidate, it will be a deliberately weak candidate—if you know, you know.
Therefore, the contest for Nairobi governorship will be between an independent candidate, an unpopular political party supported by DP Ruto, and the Jubilee candidate. I could be wrong.
Cripple deputy
BBI referendum will be a boisterous exercise at all levels. Uhuru must ensure the project goes through to keep Raila Odinga and cripple his deputy politically ASAP. I have already written Uhuru a success card, whose cover photo has him and Raila standing on Lake Victoria and barely touching Mount Kenya. If you know, you know.
Nevertheless, Uhuru and Raila have the final chance to break or build the handshake deal—their coordination must be multi-disciplinary, multi-spectral, and multi-departmental. On the other side, Tangatanga is keen on strategically dilly-dallying to break BBI's bones.
Ruto' 2021 will be like this: To resign and formalise an opposition or remain in Jubilee under humiliation as Deputy President. The former has squeaky chances. The latter is painful, but it will scatter his nemesis' plans and plots; it will keep them busy in the boardrooms until late 2021. However, Francis Atwoli and David Murathe are two most vicious thorns that will not give Ruto a happy go—he must be prepared to deal with their incessant arrows as early as the year begins.
Msambweni strategy
One strategy that Dr Ruto and Tangatanga team might use includes clandestine, hide, and seek. If you analysed Msambweni strategy, you know. DP Ruto will use several smokescreens to conceal his intentions, including openly fighting against ODM and Raila Odinga while sparing Uhuru Kenyatta—the 'my Boss'.
The main ODM agenda in 2021 is to break the back of leviathan Ruto and subconsciously weaken Jubilee—thus once Jubilee is divided, ODM will reign. I once warned here that ODM is a political android, the best in political prediction. But that's how smart politics is played!
Notably, unlike the Msambweni by-election where Ruto was challenging Raila, he must be cautious in Nairobi County. If he does it openly or in secret, and claim victory openly as he did for Msambweni, he will be overtly engaging Uhuru in a face-off. Thus, Uhuru will have a thousand reasons to squash him.
This year, there will be a second wave of clamour for post-BBI constitutional repair to accommodate the needs of outgoing senators, MPs, and governors. Therefore, since most governors are faced with compulsory retirement, some will strive to leave power in 'safe hands', where they can call some shots here and there. The power mongers will shockingly prepare to seek MPs', and senatorial posts come 2022. Some will succeed while others will flop—the vanity of ending political careers.
Finally, this year, Kalonzo Musyoka, Musalia Mudavadi and Moses Wetang'ula have indicated their willingness to be harnessed together for a beating. If they are not careful, 'things will bite each other' and they are likely to play second fiddle in the race toward 2022, against their declared 'president only' bargains.
They have formed a fifth estate—a coalition where they want to bite and soothe the left and the right sides of the government. It doesn't work like that.
Dr Ndonye is a Political Economist of Media and Communication