An injury to one teacher harms entire fraternity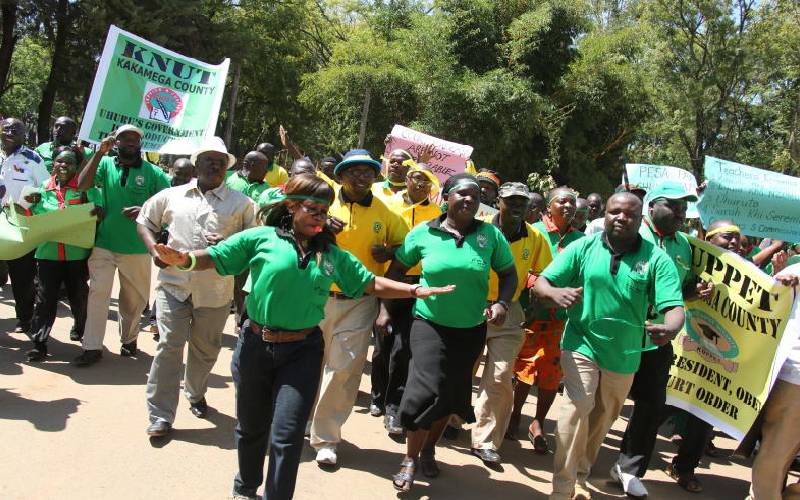 In Kenya, industrial relation is based on a fairly elaborate institutional and legal framework anchored on a tripartite setup. The set up brings together the government, workers-represented by trade unions and employers.
The legal framework is founded on relevant ILO conventions ratified by the Constitution and domestic labour legislation. The boundaries for trade union organisation and recruitment, including guidelines on categories of workers, who by nature of their work, qualify to join a trade union are defined by the Industrial Relations Charter of 1957 (revised in 1984) and the same of 2017 done by the Central Organisation of Trade Unions (COTU)-Kenya.
Kenyan teachers are governed through the 2010 Constitution, the TSC Act, the Labour Relations Act and the CBA in line with the International Labour Organisation (ILO) standards and all other international instruments which prohibit labour discrimination.
The current status of the Kenya National Union of Teachers (KNUT) is that prior to TSC interference by June 2019, we had a membership representing over 73 per cent of the government teaching force drawn from the public basic education institutions and teacher training colleges (TTCs).
However, within 12 months, June 2019-June 2020, Knut has lost over 78 per cent of its membership to illegal and discriminative policies introduced by the teachers' employers which include the collective bargaining agreement (CBA) discrimination of its members by the execution of two payrolls, membership validation, instructions to KNUT members to renounce membership through an illegal digital platform, and unfair suspension and terminations.
KNUT has engaged in social dialogue through CBA negotiations as well as in dispute resolutions to enhance industrial harmony. However, it is worth noting that the level of implementation of the legal provisions of the agreements continue to face bottlenecks as the employer fails to comply with some of the clauses as laid down.
All over the world, unions are facing a decline in membership, cautioned by governments and/ employers which may have an impact on inequality. For instance in the US economy, in 2018, only 10.5% of American workers were members of unions, according to data released from the Bureau of Labour Statistics, the lowest since the bureau began collecting statistics in the early 1980s. Most analyses of pre-1980s union membership had reached close to 30% in the 1940s and 1950s.
The Right to Organise and Collective Bargaining Convention, 1949 (No. 98), Employment Service Convention, 1948 (No. 88) and Freedom of Association and Protection of the Right to Organise Convention, 1948 (No. 87) Declaration on Fundamental Principles and Rights at Work adopted in 1998 are among the eight fundamental Conventions of the International Labour Organisation (ILO).
In Kenya, the government and teachers employer have consistently interfered with KNUT operations by introducing member validation, to forceful cause KNUT members to quit, execution of two payrolls, denial of Knut members their 2017-2021 CBA benefits and increments for 13 months and the recovery of money already paid to teachers since July 2017.
This amounts to discrimination and intimidation of its own employees which contradicts Part II regulation 16 of the Code of Regulations for Teachers which stipulate that "The Commission shall not discriminate on any ground against any person in respect to employment" and Clause 19 of the CBA that is very clear on non-discrimination "Parties to this Agreement shall be bound by the provision under regulation 16 of the Code of Regulation for teachers on Non-Discrimination" end of quote. TSC has gone against this clause by running two payrolls for the last 12 months.
In October 2016, Knut and TSC signed a CBA, which saw classroom teachers awarded a two-phase salary increment and headteachers, principals' deputies and senior teachers awarded 4 phases ending in June 2021. Currently, implementation of the 4th phase is ongoing from July 2020. However, KNUT members were again not awarded their 4th phase of the CBA in the July 2020 salary despite the CBA being signed, deposited in court and a certificate issued and Parliament appropriating Sh54 billion to finance the pay to all teachers.
Implementing pay structures of the CBA applies to all employees of the TSC duly registered, employed and assigned duties. Thus the negotiation of the benefits of the CBA, under Section 13 (5) of the TSC Act was for all registered teachers.
TSC, therefore, cannot ignore the Code of Regulations and develop other parameters and issue circulars to manage teachers. The purported Career Progression Guidelines (CPG) have been declared null and void by the Employment and Labour Relations Court and the Circular of May 2, 2018, bringing it into force without negotiating with Unions and without taking the guidelines through Parliament nullified. Any continued application of the same by TSC is not only contempt of the court directives but a violation of clause 4 of the CBA.
Even with these attacks, KNUT will continue to advocate the rights of all teachers from ECDE to higher education and shall not give up even an inch of what is right to all teachers and we shall not be shut down from being a free, vibrant and independent trade union.
-The writer is the KNUT Secretary General