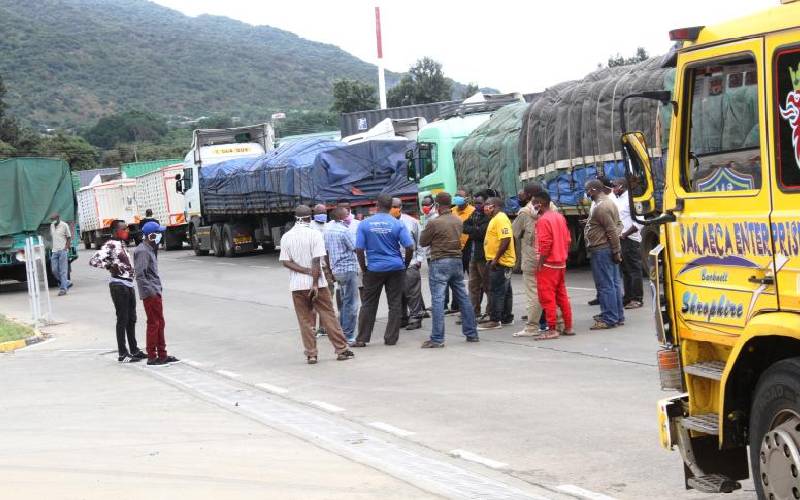 The recent diplomatic spat between Kenya and Tanzania exposed the two countries' political and economic underbellies. The genesis of the meltdown was the testing for Covid-19 of truck drivers from both states. Kenya and Tanzania have more in common than their counterparts in the East African Community (EAC). The two, not only share a long contiguous border, but also Kiswahili as their national language and lingua franca among citizens. Indeed, this lends credence to Chinua Achebe's description of African states as a mere geographical expression. The two states also share other languages besides Kiswahili. We have the Tanzania Maasai and the Kuria of Tanzania who are respectively mutually intelligible. Kenya and Tanzania depend on each other economically. According to the United Nations COMTRADE database on international trade, Tanzania has a nearly balanced trade with Kenya, importing goods worth Sh23.3 billion in 2017, while exporting goods worth 23.7 billion. However, trade between the two countries has been on a downward trend since 2014. The recent dispute occurred despite clear provisions of the treaty for the establishment of the EAC which was agreed in 1999. A cursory glance at the treaty leaves one wondering why a small misunderstanding could cause such a standoff
SEE ALSO: Covid-19: Three people dead, 671 test positive
Article 89 of the treaty is unequivocal on the harmonisation of policies and physical practices on Common Transport and Communications. The article envisages that partner states undertake to evolve co-ordinated, harmonised and complementary transport and communications policies; improve and expand the existing transport and communication links and establish new ones as a means of furthering the physical cohesion of the states so as to facilitate and promote the movement of traffic within the community. Partner states are supposed to take steps to develop harmonised standards and regulatory laws, rules, procedures and practices, construct, maintain, upgrade, rehabilitate and integrate roads, railways, airports, pipelines and harbours in their territories. The treaty also calls on the member states to review and re-design their intermodal transport systems and develop new routes within the community for transport of the goods and services produced in the states. The countries are also required to maintain, expand and upgrade communication facilities to enhance interaction between persons and businesses in the partner states and promote the full exploitation of the market and investment opportunities created by the community.
SEE ALSO: Uganda's tough approach curbs COVID, even as Africa nears 1 million cases
Further, member states are enjoined to grant special treatment to land-locked states and provide security and protection to transport systems to ensure the smooth movement of goods and persons within the community.
Deepening co-operation
For all these to be sustainable, member states are implored to take measures towards the harmonisation and joint use of facilities and programmes within existing national institutions for the training of personnel in the field of transport and communications; and to exchange information on technological developments in transport and communications. Article 5 of the treaty is overarching and sets out the objectives of the community which include development of policies and programmes aimed at widening and deepening co-operation among the states in political, economic, social and cultural fields, research and technology, defence, security and legal and judicial affairs for their mutual benefit. Of most importance is the objective to establish among the East African States a Customs Union, a Common Market, subsequently a Monetary Union and ultimately a Political Federation This is meant to strengthen and regulate the industrial, commercial, infrastructural, cultural, social, political and other relations of the partner states towards accelerated, harmonious and balanced development and sustained expansion of economic activities, the benefit of which shall be equitably shared.
SEE ALSO: Reprieve for county officials ordered to self-quarantine
Any reader of these provisions of the treaty is left assured that the signatories of the treaty made serious and forward-looking undertakings to forestall stalemates such as the one between Kenya Tanzania. Although Covid-19 has caused confusion in almostall countries including the so-called first world, if the treaty was implemented fully, blaming each other for the high numbers of Covid-19 infections at the border would not have occurred. It appears that the states only implemented parts of the treaty that create jobs such as the East African Legislative Assembly, the East African Court and the Secretariat; institutions that are by and large moribund! If we had a functional railway system connecting Tanzania, Uganda and other East African countries, we would not have high Covid-19 cases due to a high number of truck drivers on our highways. The treaty is quite clear on this. Why we do not have a harmonised standards and regulatory laws, rules, procedures and practices is due to lack of seriousness in implementing the treaty amongst its members. The states should, by now, have constructed and maintained, upgraded, rehabilitated and integrated roads, railways, airports, pipelines and harbours in their territories. If we had a railway system across East Africa, the embarrassing gridlock that was caused by Covid-19 testing in the border towns of Namanga and Malaba would not have been there. The gridlock would have been cleared by a crew of about three railway locomotive operators as one cargo train can carry 200 forty-foot containers. The arguments that development of railway transport would lead to loss of jobs does not hold water. First, in countries where the main means of cargo transport is the railway like France and England, more jobs are created by economies of scale necessitated by faster movement of goods and services. Secondly, loss of jobs has never stood on the way of technological advancement throughout history. In the yesteryears, typewriters were in almost every office but today, these gadgets and their users are no longer in use due to technological advancement.
Mr Suyianka is a litigation counsel at Katiba Institute