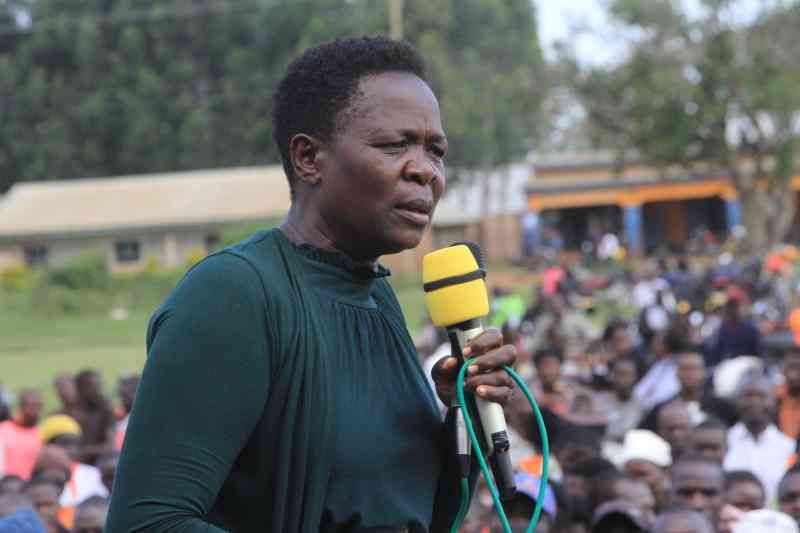 The battle for the Migori Woman Representative seat is developing into a tough contest featuring six women who have made a mark in the county's political and economic sphere.
All the candidates are household names in the region and their entry into the race promises a bruising contest as they intensify their grassroots mobilisation with a view of convincing the electorate to back them.
The race has attracted Governor Okoth Obado's wife, Hellen Obado, who is hoping to keep her family's political flame burning beyond Obado's tenure. She hopes to clinch the seat as an independent candidate. Also in the race is veteran ODM politician Denitah Ghati who is hoping to reclaim the seat she held during the first term of devolution.
Radio journalist Josephine Sirenga, who has become a household name through her reporting on local radio stations, is also hoping to translate that fame into votes on August 9.
Other independent candidates include businesswoman Fatuma Mohamed and Zilper Audline, an educationist and former high school principal.
President Uhuru Kenyatta's Jubilee party has fielded former county government employee Lillian Akugo to contest for the seat.
As the women adopt various strategies to endear themselves to voters, they are united in their support for Azimio la Umoja One Kenya coalition presidential candidate Raila Odinga - who is perceived to have a stranglehold on the region.
For Hellen, it is a tough balancing act vying as an independent because her husband is the chief campaigner of Deputy President William Ruto and his Kenya Kwanza Alliance.
She has made public appeals to voters not to judge her based on her husband's dealings and political leanings, even as she hopes that support for Raila will tilt the scales in her favour.
Her opponents have used Obado's legal woes, including corruption and murder charges, to attack Hellen's credentials.
"I just want the people of Migori to look at me as Hellen and trust me with their votes," she said.
The governor's wife says she joined the Woman Rep race to complete projects she had started, like a chicken-rearing project dubbed 'Kuku ni Pesa'.
"I am going to try it out. I have a vision for the people, especially women in the county," she said.
Hellen has also been a champion of girl-child education as well as advocating for human rights.
Residents, however, believe that the clannism that reigned supreme in past elections could be instrumental in determining who clinches the county MP seat.
Hellen, Lilian and Zilper all hail from the Katieno Clan in North Kanyamkago, Uriri sub-County.
Ghati , who's a nominated MP, hopes the regional balance that in the past helped the Kuria community win the seat will favour her. She is also banking her hopes on the massive support ODM enjoys in Migori.
Negotiated democracy
Ghati won the seat in 2013 as part of a 'negotiated democracy' deal meant to accommodate the minority Kuria community.
She set out to defend her seat in 2017 but was defeated in the ODM party nominations by Pamela Odhiambo.
In January this year during the coronation of Kuria elders, Raila advised Ghati not to contest for any seat because the party would reward her with post.
But the legislator said she believes she has been the most 'fair' of the leaders in Migori. "Across the time I have served in this county, I have developed a relationship with the people. And I know even now I understand the needs of the people."
Ghati faced off with Fatuma in the April 18 nominations and was announced winner after she garnered 37,792 votes against Fatuma's 23,552 votes. Ghati says her zeal and determination to continue serving the people of Migori are what compelled her to go for the seat.
"I have learnt to live with disability, which I acquired in 2014 after being elected. I have accepted my situation as a woman with disability," she said.
Lillian says she will focus on giving resources to women, persons with disabilities, and the youth. "The position entails a lot and that is why if you want to be a leader you have to be innovative."
By vying on a Jubilee ticket, she says she hopes to show that other parties in the Azimio-One Kenya coalition are 'equally the same as ODM'.
She made news recently when she dismissed as false a social media post by her husband that she had stepped down in favour of Hellen.
Mr Akugo had posted: "It is everyone's constitutional right to go for any political seat he or she deems fit, but Lillian and Hellen will never be on the same ballot".
But according to Lillian, that was her husband's personal opinion. "There is no way I can step down for Mrs Obado. I am focused on the race and I have a vision, which I cannot shelve," she said.
Former radio presenter Sirenga says her work allowed her to interact closely with the community, which faces daily problems. This sparked the desire to step up and help solve the challenges they face.
"The Woman Rep seat is directly related to this vulnerable group. Even as a journalist I tried with my network to see where I could help but it was not enough," she said, adding that if elected she will focus on areas with the biggest gains on residents' lives.
Sirenga, who picked two dice as her symbol, says people "don't feel the impact made by politicians". "The policies and agendas are there, and it is the same thing but that impact is not there."
Fatuma, who was disappointed in the ODM nominations, says she will focus on establishing a health facility and building a rescue centre where the youth can receive skills training. She says she will also empower women.
She keeps a photo of her in an Orange kitenge, which also adorns her posters.
Fatuma wants residents to stop focusing on the marital status of aspirants, but instead be more concerned about the changes they will bring.
She said that despite everything that happened, she still supports Raila's presidential bid. "Persistence is good. Politics is not as dirty as they say. It is you who will choose the way you want to go."
The other independent candidate, Zilpah, says her focus will be development-oriented as she seeks to transform the county positively.
"I will ensure I do whatever was not done by my predecessors. I will also focus on completing the projects they started," she said.