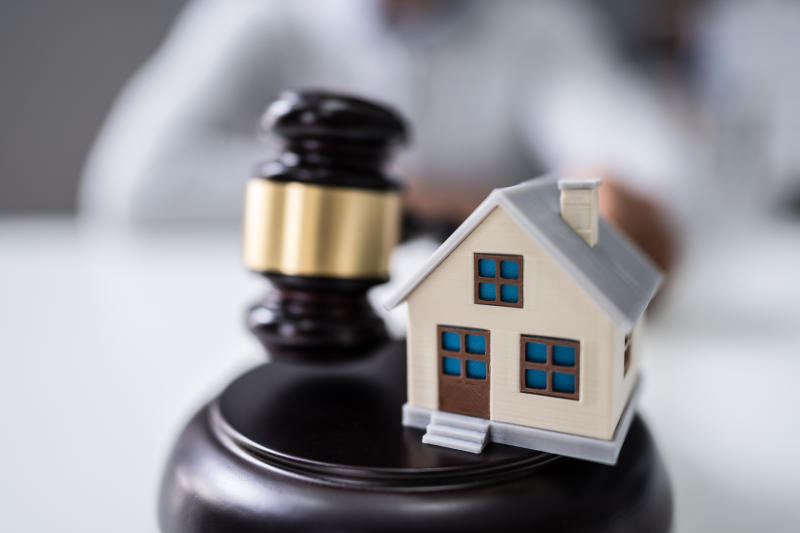 A woman who wished her father-in-law dead to inherit his seven-acre land has lost her claim to the property.
Teresia Kwamboka had sued her father-in-law Ezekiel Nyarango Mauti over the land in Nyamira County. Ms Kwamboka claimed Mr Mauti had issued an 'oral will' in 2005 bequeathing her the land, but did not die within the period the 'will' was to be effective.
Environment and Lands Court judge Mugo Kamau ruled that it was heartless for Ms Kwamboka to mention and rely on the will of a living person to claim a piece of land she did not contribute anything in purchasing.
"It is a sign of insensitivity, selfishness, thoughtlessness, heedlessness and ungratefulness. It is as if she was concerned her father-in-law was taking too long to die. It is very shameful, sickening, disgusting, dishonourable and disgraceful that she had the audacity to sue him," ruled Justice Kamau.
According to the judge, it was shameful for Ms Kwamboka to ask the court to restrain her father-in-law from entering or interfering with his own land on the misguided and misinformed basis that she had acquired "equitable interest" over the same on account of the oral will.
Ms Kwamboka's case was that she was married to Mauti's first born son David Mauti Nyarango who passed on leaving her a widow.
She stated that in 2005, her father-in-law subdivided his 22-acre land into three portions. He retained eight acres and divided the remaining into seven acres each which he bequeathed to her and her brother-in-law Elijah Ondieki Nyarango through an oral will witnessed by their local pastor.
She stated that on the strength of the oral will, she constructed her matrimonial home on a portion of the seven-acre piece of land and used the remaining to farm.
Ms Kwamboka told the court that she feared her three sisters-in-law had conspired to have their father revoke the oral will and asked the court to confirm the will, grant her possession of the land and restrain him from accessing it.
Mr Mauti's defence was that he was the sole proprietor of the 22-acre land having bought it in 1965 and sold part of it (eight acres) to pay for medical bills of his wife who died in 2019.
He denied ever giving an oral will to her daughter-in-law, in which he granted her seven acres. He said that his wish was to grant all his five children two acres each and retain four acres out of the remaining 14-acres.
He also accused his daughter-in-law of mistreating him, assaulting him, denying him food and kicking him out of his own land which forced him to seek refuge at his daughter's home in Nairobi while he was sick and confined to a wheelchair.
Justice Kamau sympathised with the old man, stating that it was immoral for the daughter-in-law to drag him to court when he was ailing, for a piece of land she did not contribute anything to buy, and was only connected to the family through marriage.
"She is clinging to a 17-year old oral will without telling us any special circumstances under which it was made. Secondly, we are talking about the validity of a will made by a person who is still alive and who has even testified in court and contradicted the alleged will," ruled Kamau.
According to the judge, oral wills are only admissible in special circumstances where the person issuing it is on his death bed, or a soldier who has gone to war and dies within three months of issuing the oral will.
The judge ruled that in any case, there is no law which obligates parents to distribute land to their children while still alive and that Ms Kwamboka was stretching the law too far by asking the court to declare the seven-acre as matrimonial property when it was not even an ancestral land.
"The land does not even fall under the categories of ancestral land. What if he had decided to drink all his earnings without investing anything as many parents normally do? I do not understand why she dragged him to court because of his being so considerate to acquire land," the judge stated.
Justice Kamau ruled that going to court to have a parent ordered not to enter his legally acquired land is like spitting on the said parent. Same applies to forcing him to sub-divide his land when the children are still capable of working and buying their own land.