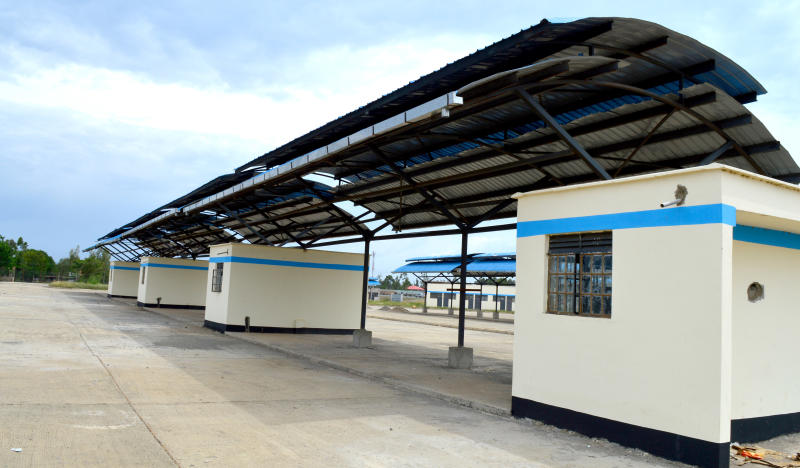 Some public service vehicle (PSV) operators are feeling sidelined in the Sh100 million Nyamasaria terminus project, which is set to be operational by the end of this month.
Construction of the termini located along the Kisumu-Nairobi Highway started in 2020.
Operators who spoke to The Standard accused 'cartels' of planning to control the allocation of the terminus.
Bob Andala, the chairman of matatu operators in the region, said he has never been called to any meetings pertaining to the project since it was completed.
"There have been a couple of meetings by so-called stakeholders to work on regulations for the terminus, but I am yet to get official communication regarding the same," Mr Andala said.
"NTSA has rules and regulations set aside to run the public transport sector and if the county is not going to involve every single stakeholder in the implementation of these laws then I don't see the need for this particular project as it will continue to divide people in this business," said Mr Andala.
But some operators are not enthusiastic about the relocation, and fear losing business if moved to the parking bay that lies outside the Central Business District. Currently, most of the operators conduct their operations from the CBD, which is accessible to commuters.
And touts in Nyamasaria want the government to rescind its plan to relocate PSVs from the main bus park to the new site, saying that it will lead to fights between crews.
"I feel it will be better for those who operate from the CBD to remain there and we, together with long-distance operators, to work from Nyamasaria for the sake of peace," said Jairus Osiare.
The county government confirmed that the project was complete and would be made operational by April 30.
Kisumu city manager Abala Wanga said the project cost approximately Sh99.8 million.
The terminus is divided into sections; there are parking bays for long-distance buses and shuttles. Other features are covered canopies, Sacco offices and town commuter service sections for matatu, tuktuks and boda boda.
It also has passenger waiting lounges, sanitary points, revenue and security control booths, security lighting and waste management points.
According to Mr Wanga, the bus park can accommodate all the PSVs currently operating at the terminus located in town.
Asked about the extension of the project to other informal settlements, Wanga said Nyamasaria parking bay is one of the three satellite bus parks proposed in the city in the urban mobility plan.
"The other proposed satellite bus parks are Mamboleo and Otonglo," he noted.
The project in Nyamasaria is intended to improve the transport network and connectivity.
It is also one of the pillars for Nyamasaria sub-centre which has been proposed in the physical development plan.
"The county revenue shall be enhanced through automation," added Wanga.