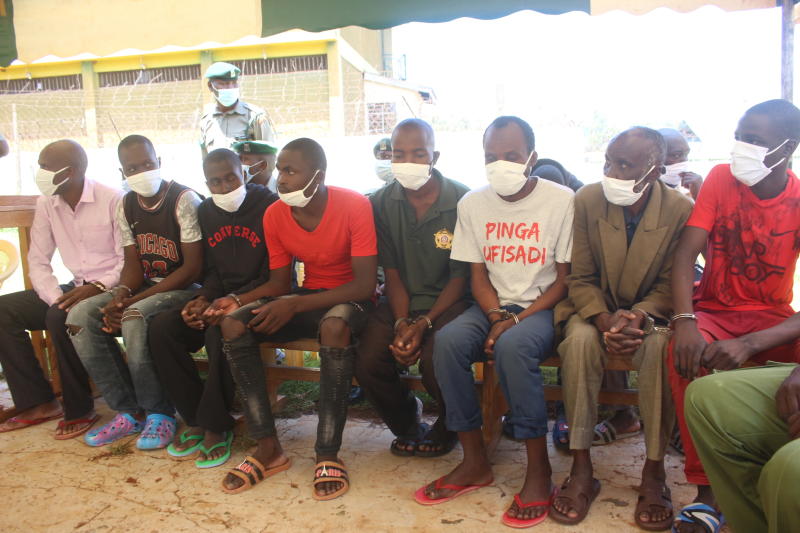 A man told the High Court in Kisii how he watched helplessly as his mother was killed over claims of witchcraft.
Peter Monari told High Court judge Rose Ougo that his mother Sigara Onkware, 93, was killed at their home in Marani by people armed with hoes, machetes and clubs.
The assailants then took her body away with the intention of burning it.
Monari said under oath that two of the accused persons were among those who stormed his mother in her house.
"My mother had a week earlier gone to see Chrispine Ogeto, her grandson. Ogeto was unwell and the accused person later labelled her a witch," Monari told the court.
The witness said one of the suspects Amos Nyakundi alias 'Sonko' appeared to be the ringleader of the group.
Monari told the court he was picking coffee at their farm on the fateful day when he saw a group of people heading to his mother's house. They did not greet him, which made him suspect something was amiss.
He asked the group if they had any issue with his family, and they told him they wanted to see his mother. They proceeded to her house where they found her with a one of her sons identified as Tom.
"I saw Amos Nyakundi and Chrispine Ogeto among other people in the group that went to my mother's house. About six of the attackers beat up my mother," Monari told the court.
He told the court that his mother was able to identify Ogeto and asked him why he was alleging that he had bewitched him.
He further said that Ogeto did not beat up his mother, but was the one who identified her "as one of the four elderly women who practised sorcery.
Nine suspects are facing murder charges for the crime committed in October last year.
They are Nyakundi, Ogeto, Peter Angwenyi, Brian Mecha, Nelson Tumbo, Justin Morara, Justin Tumbo, Ronald Ombati and Hesbon Gichana. The suspects have denied the charges.