Women vow to change the face of their village by shunning illicit brew and embracing agribusiness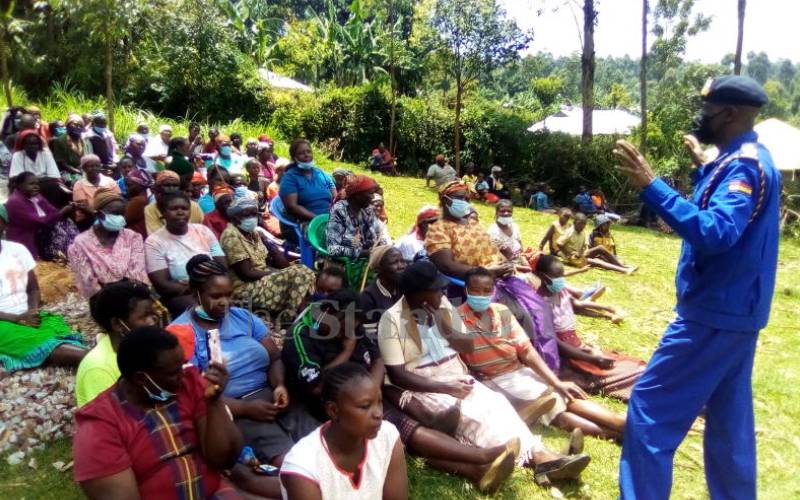 In the past, most residents of Nyagenke village in Bomachoge Borabu Constituency, Kisii County, were known for the sale and consumption of illicit brews.
However, about 200 women in the area, who include 110 widows, resolved early this year to change the face of the village by shunning illicit brews.
Josephine Moraa, the chairperson of Nyagenke Women Self-Help Group, told The Standard that the women realised that alcohol consumption had ruined their families, making their addicted husbands irresponsible and their children to drop out of school.
"We came together and decided that we had to make a change in our lives by discarding the long-held tradition of making illicit brews that were consumed within our village and bought by people who transported it to other areas for many years," said Moraa.
Beatrice Gechemba, who had been brewing alcohol for years, said it was a wake-up call when her husband and two sons died due to alcohol addiction. She regretted the magnitude of destruction illicit brews caused for most families.
When her husband and two sons died within a span of five years, Gechemba re-examined her life and realised that most families had suffered due to the illicit brew businesses that most women in their locality engaged in to make money.
"I can honestly tell you that I am yet to see a woman who is successful because of the illicit brew business. Most of them have lost their husbands and children to the same business that was supposed to earn them a living. This is most probably a cursed business," said Gechemba.
Callen Mokeira, a member of the group, said that in the past, they viewed police officers as their enemies and did everything to avoid any encounter with them. The women always engaged in cat and mouse games with policemen as they engaged in the illegal business.
Mokeira said three months ago, Kisii County Police Commander Francis Kooli visited the village, which is near the border of Kisii and Narok counties, and engaged the locals in dialogue in efforts to ensure that the illicit brews business was eradicated completely.
She said the women informed the police boss that most of the women who are involved in making illicit brews had no other option since they came from poor families with small parcels of land which could not enable them to engage in farming activities.
"Kooli asked us to state what help we needed in order to stop making the illicit brews that were ruining the health of our people. We told them that we were ready to sell maize, vegetables, chicken and fish if we got support," said Mokeira.
Mary Nyaboke said that despite engaging in the illicit brews business, most of them had nothing to celebrate about.
Nyaboke said following the support by Kisii police commander, they are determined to change the face of the village which is known locally as the hub of the illicit brews.
Kooli said he decided to support the women by leasing two acres of land at Mapashi in Trans Mara West Sub-County in Narok County which neighbours the area so that they can engage in vegetable farming.
The police commander said he came up with the idea after realising that the frequent arrest of the women was not the best solution in dealing with the illicit brew menace.
Kooli said that by leasing land in the nearby Narok County for the women group, he was not only out to support them but was looking at the best ways of promoting peaceful coexistence between the Abagusii and Maasai communities who have in the past clashed.
"When I held a meeting with the women two months ago, I asked them to stop making and selling illicit brews which were only serving to destroy the lives of those who took them. They told me they needed support to start alternative businesses," said Kooli.
The police boss said the women have formed four groups, with each specialising in vegetable farming, selling fish, selling maize and selling chicken.
Kooli said that he wanted to make Nyagenke village a case study in elimination of illicit brews in Kisii County that could be implemented in other villages with similar problem in the county.
This as the world marks International Rural Women's Day, today October 15.
Quick facts
According to a UN Women Kenya study, the number of women estimated to have lost all income, as a result of COVID-19, is 1.6 times higher than their male counterparts.
The COVID-19 pandemic led to loss of jobs and other sources of livelihood, and to loss of incomes for more women (20 per cent) than men (12 per cent).
This notwithstanding, more women than men in both urban and rural areas reported lower household monthly expenditure per month pre-Covid. The low household expenditures are likely to have worsened post-Covid.
Source: UN Women - An Assessment of the Gendered Effects of the Covid-19 pandemic on households