Help us end illicit brews or quit, CS Fred Matiang'i tells chiefs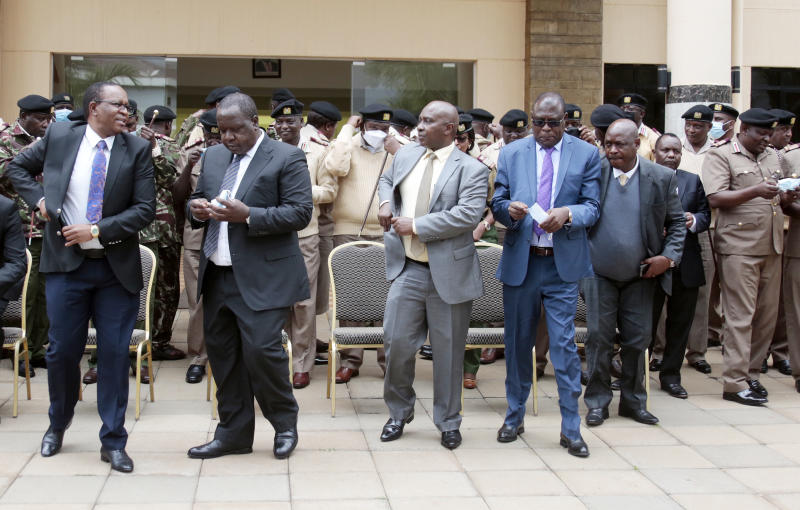 Interior Cabinet Secretary Fred Matiang'i has accused chiefs and county commissioners of frustrating the Government's efforts in the war against illicit brews.
Matiang'i has now said government officers found to be abusing alcohol and other drugs will be interdicted immediately.
"How can chiefs and assistant chiefs enforce the law on illegal alcohol yet they are supposed to be in a rehab themselves? It is so embarrassing to see a government official in uniform staggering to their homes after drinking illicit brews," he said.
Matiang'i tasked officers in his ministry to make regular reviews on administrators and remove from the system all drunken chiefs, assistant chiefs and other administration officials.
"I know the position that we will take will cause public uproar, but I'm prepared to walk this path because it's the right thing to do for the country. I do not mind even if we will have remove them in hundreds and employ new chiefs and their assistants," he added.
Matiang'i spoke during the launch of the 30-day implementation of the Rapid Results Initiative (RRI) on the elimination of substandard and counterfeit alcoholic drinks where regional and county commissioners were tasked to spearhead the nationwide crackdown against illicit alcohol.
The CS said he would work with the Ministry of Health to see if the National Health Insurance Fund could be used to take those addicted to rehab but after they have been interdicted.
"I don't mind talking to the minister to help those affected when they are not our employees. Our ministry is not going to be a rehab taking to hospital employees abusing alcohol," said Matiang'i.
Further, he noted that commissioners and police officers collude with manufacturers of substandard alcohol and use the official's names to be cleared at police roadblocks.
"Some of you are protecting these people in exchange for gifts and money. Some of those brewing the liquor are untouchable because they are relatives to the commissioners in their areas," he added.