MPs urge Nyanza youth to register as voters ahead of 2022 polls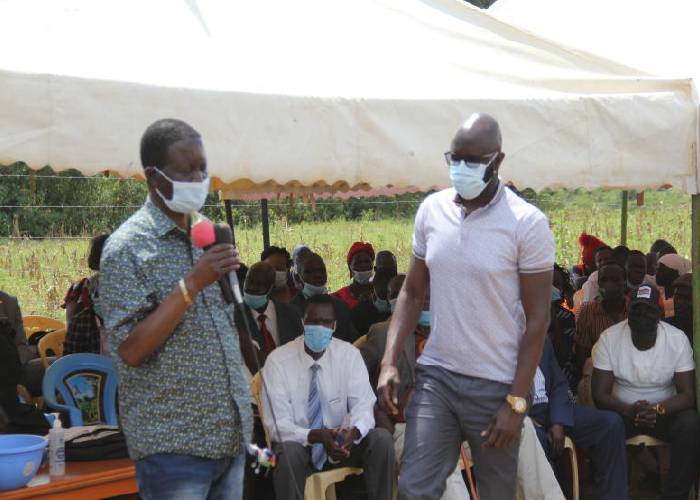 Elected leaders from Nyanza region have been challenged to start a voter registration campaign after the collapse of the Building Bridges Initiative (BBI) Bill.
Kasipul MP Ong'ondo Were and his Alego Usonga counterpart Samuel Atandi said voter registration drive is the only way to enhance the region's political success.
Speaking during the burial of the late George Oyugi at Kwoyo Village in Kasipul Constituency, the legislators urged those eligible to list as voters but are yet to do so to register ahead of the 2022 General Election.
A fortnight ago, leaders from the region unanimously met at Sikri TTI in Kasipul and agreed to support ODM leader Raila Odinga as their preferred presidential candidate in the 2022 poll.
However, this support might not make an impact if residents cannot register as voters.
Atandi challenged elected leaders in the region to mobilise residents to register as voters.
"We agreed as elected leaders to support Raila for the presidency but this can only be successful if we have a good number of voters in should come out and mobilise residents to register as voters," said Atandi.
The MP said the drive should begin by mobilising residents to register for the national identity card which is a prerequisite for voter registration.
"Every village has youths who have attained the age of 18 and above but they don't have ID cards. These people should be brought on board," said Atandi.
Were challenged all politicians who want Raila to win the presidency in 2022 to mobilise those who have attained the age of 18 in their areas to register as voters.
"A presidential contest is won by number and Raila stands a good chance of winning the seat. Let every resident and elected leader take voter registration seriously," said Were.
He urged leaders in the region to avoid personal differences and work as a united team in voter registration drive.
"Let us look at the bigger picture which is the presidency. Local politics will not take us anywhere as a region," said Were.