Over 750 vulnerable elders in Kasipul enlisted in Sh4.5m free health cover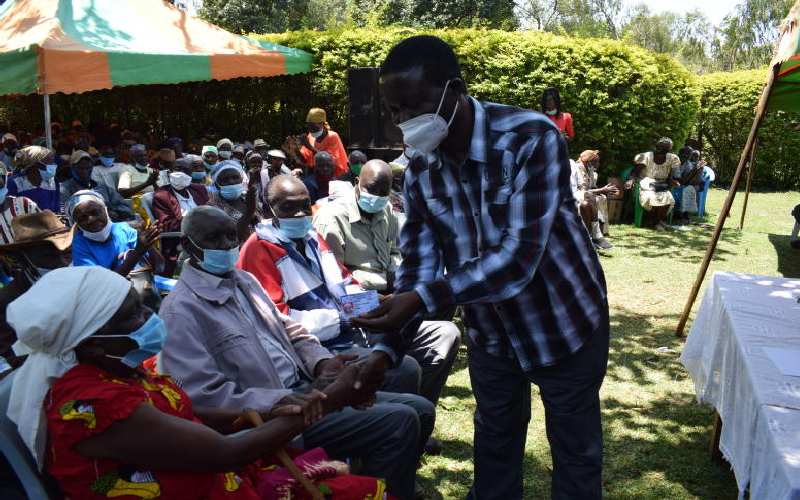 Over 750 vulnerable elders in Kasipul Constituency have started benefitting from a Sh4.5 million free health insurance programme.
The programme funded by the Kasipul National Government Constituency Development Fund (NG-CDF) has seen the senior citizens enlisted in the National Hospital Insurance Fund (NHIF).
Under the programme, the CDF kitty will pay Sh6000 NHIF annual contribution for the beneficiaries.
Speaking on Tuesday when he presented the elders with NHIF cards in Oyugis town, area MP Ongóndo Were said the initiative will help vulnerable elders who are unable to afford medical care.
Were who was accompanied by nominated MCA Mary Gaya said the money has already been deposited in the NHIF bank account and the elders can now enjoy the medical cover scheme.
According to the MP, the programme targets senior citizens are aged 60 years and above, and are neither receiving pension nor beneficiaries of the cash transfer programme.
"Many elderly persons have various health challenges due to their advanced ages. However, many of them cannot meet the cost of medical care due to financial challenges," said Were.
He said the programme is aimed at improving lives of the senior citizens.
"The main criterion we used in selecting the beneficiaries is poverty. We have considered the most vulnerable from all polling stations in the constituency," said Were.
The MP said they are going to increase the number of beneficiaries to more than 1000 in the subsequent financial years.
Gaya said the programme will help boost lifespan of the senior citizens.
"Medical care is an integral part of life. Aiding the elderly to acquire medical care means increasing their life span," said Gaya.
Rachuonyo South Sub-county Hospital Administrator Zachary Ogweno said the facility had signed an agreement with a partner who will provide patients with drugs free of charge.
"When patients come to our hospital, we refer them to the partner for drugs which we don't have. The hospital is the one that pays for the drugs later hence the elderly will benefit a lot," said Ogweno.
Some of the beneficiaries who spoke to Standard Digital hailed the programme, saying it will help them get medical attention when in need.
"I have a problem in my foot which forces me to go to hospital every now and again. But I don't have a reliable source of income. This programme will help me get medical care," said 80 -year-old Syprina Oreta.
Joshua Ondago, 74, said he had bone problem which puts him in need of medical care persistently.
"I am no longer going to suffer because I will acquire medical care without financial difficulties," said Joshua Ondago, 74.