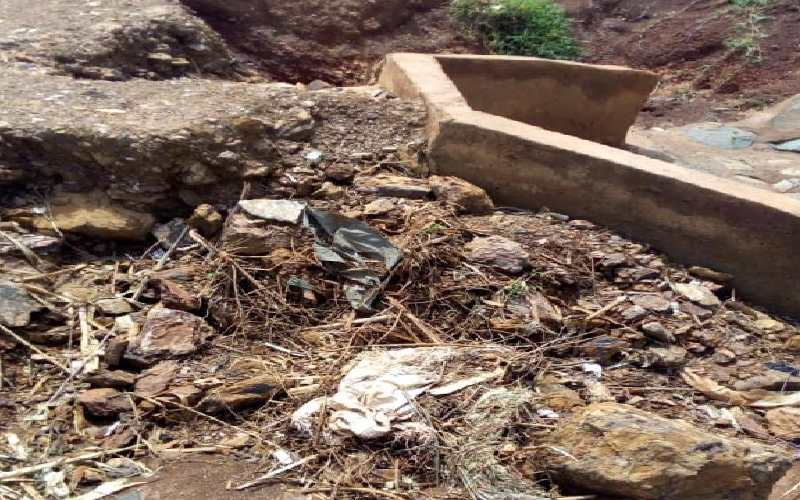 Over 5,000 residents of Rachuonyo South in Homa Bay County now say their homes and local institutions have been rendered inaccessible as a result of the newly tarmacked road.
Locals decried poor workmanship on the 7km Oyugis- Gamba Road tarmacked by the Kenya National Highways Authority (KeNHA) through the Ahero –Isibania Road construction project.
Residents of Kowidi, West Kamagak, East Kamagak and Kakelo locations have complained of poor construction of culverts which has hampered the movement of motorbikes and vehicles.
Some of the institutions affected include Ayoro Coffee Factory, Guu and Uhuru markets, Pala, Gamba and Mithui primary schools, Anyona and Gamba SDA churches.
Read More
Led by elder Tom Onyach, the residents said failure to construct proper culverts on the road had caused them miseries.
"We cannot access our homes and even our churches because the culverts are poorly constructed. The topsoil has been eroded on some of the culverts," said Onyach.
Oloo Agola, another local said they are forced to leave their cars in Oyugis Town.
"It is unfortunate that we have to leave our vehicles in Oyugis town because of poor culvert construction," he said.
Ayoro Coffee Farmers Cooperative Society treasurer Priscilla Odiwuor said the situation is jeopardizing the delivery of coffee in their factory.
"Delivery of coffee has drastically reduced from to 33kg from last year's 13kg due to the inaccessibility of our factory. This is affected our income," she said.
Samwel Owida, a resident said the situation had caused the inability of farmers to reach markets with their farm produce.
"Farmers cannot access markets easily and residents who want to transport building materials to their homes cannot do so due to the poor culverts. This is a serious economic drawback to residents of this place," said Owida.
He said their efforts to speak to the local supervisor in charge of the road had proven futile.
"Just like other residents, I have talked to him several times but in vain. We are calling on the KeNHA management to intervene in this matter," he added.
Bodaboda riders also raised complaints that the situation is impeding their work.
However, KeNHA Director General Peter Mundinia said he had directed his officers to address the problem.
"I know the problem and I have directed my officers to solve it," said Mundinia.