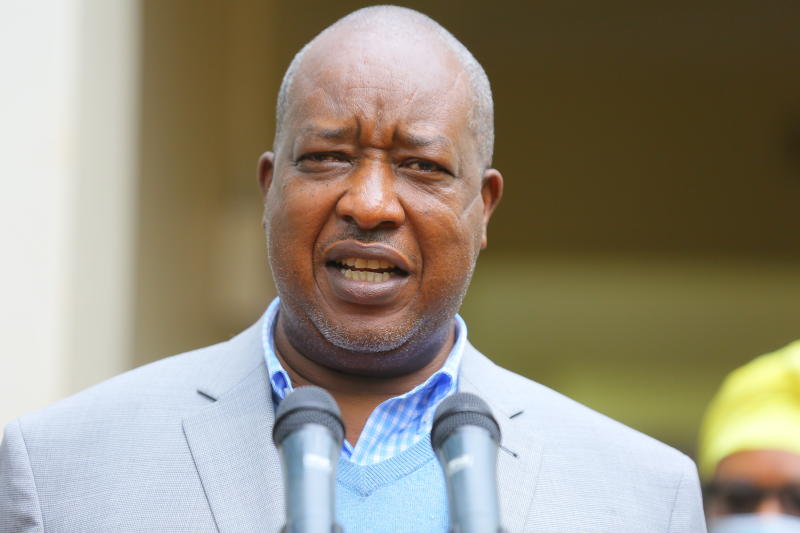 Nyamira Governor Amos Nyaribo Tuesday encountered yet another roadblock in reconstituting his government after the court reinstated five executive members who served in the previous regime.
The five had been rendered jobless constitutionally following the death of John Nyagarama whom Nyaribo succeeded less than a month ago.
The officers had moved to the Employment and Labour Relations Court to contest their dismissal by Nyaribo.
Read More
On Monday, the executives appeared at the County Secretary's office where they said they had gone to report demanding to be allowed back to their offices in accordance with the court orders.
Those who were granted the conservatory orders to continue serving in their offices are Douglas Bosire(Health), Muga Omwanza(Roads), Zablon Onchiri(Lands and Physical Planning), John Omanwa(Finance and Planning) and Bernard Osumo (Public Administration.
There was drama at the entrance to the Governor's offices after some youths protested the ministers' reappearance at the headquarters.
Nyamira County Secretary James Ntabo acknowledged receiving the orders and said he will commence a compliance process.
"As Public officers, we are under obligation to obey court orders and this cannot be an exception," Ntabo said.
During the time, Governor Nyaribo was not in the office but it was confirmed that he was also given a copy of the court orders.
"Pending hearing and determination of the application, this honourable court is pleased to issue a conservatory order in the form of an injunction restraining the respondents in this matter from interfering with the service contracts of the petitioners," the court order read in part.
The officials said they were ready to take their offices back even after handing them over to their respective chief officers about three weeks ago.
The developments are part of the headache in Nyaribo's Government.
On Friday last week, ODM Party Chairman John Mbadi wrote to him, demanding that he nominates Charles Rigoro as his deputy, following the rejection of former West Mugirango MP James Gesami by the County Assembly.
The Governor is yet to comment on the matter.