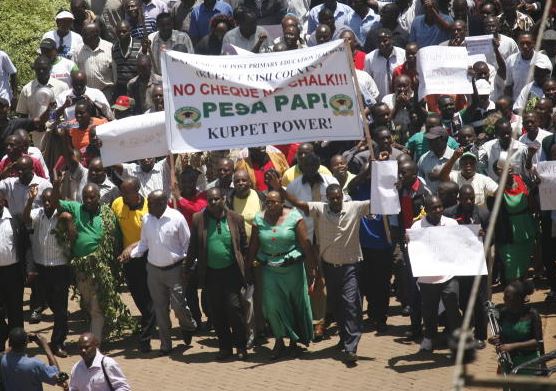 Some teachers eyeing various positions in the Kenya Union of Post Primary Teachers (Kuppet) Migori branch elections have threatened to boycott the polls over rigging claims.
On Wednesday, some of the candidates indicated that they were not pleased with the preparation for the election slated for January 15.
According to the teachers, there was no list of candidates that had been cleared by the union to participate in the branch election, with their portraits.
Led by Kenneth Boro, the faction claimed that they were yet to get the voter register which would be used during the election, a document which should be available 60 days before the election.
"We are not sure of the people who have expressed their candidature for the various positions yet the election is nearing. Some of us eyeing various positions could be campaigning yet we are not even certain if our names are on the ballot," Boro said.
Read More
The candidates also want the union's top officials to take serialised ballot papers for the election to avoid manipulation.
But Migori Kuppet Executive branch Secretary Samwel Orwa denied the allegations, saying that the office had listed all the candidates and that preparations were on for the elections.
"I am not mandated to prepare the register since I'm also an aspirant. The register is prepared by the Teachers Service Commission, signed by the unions' Secretary General and given to the labour office for verification. Personally I haven't seen the register and no single county has received its register for eligible voters," explained Orwa.
County Labour Officer Davis Ekwam said his office is yet to receive the register.
"We normally meet the officials and the aspirants prior to elections but this has not happened. I have equally not received the voter register," he said.