Calls for self discipline, consistency as Othuol Othuol laid to rest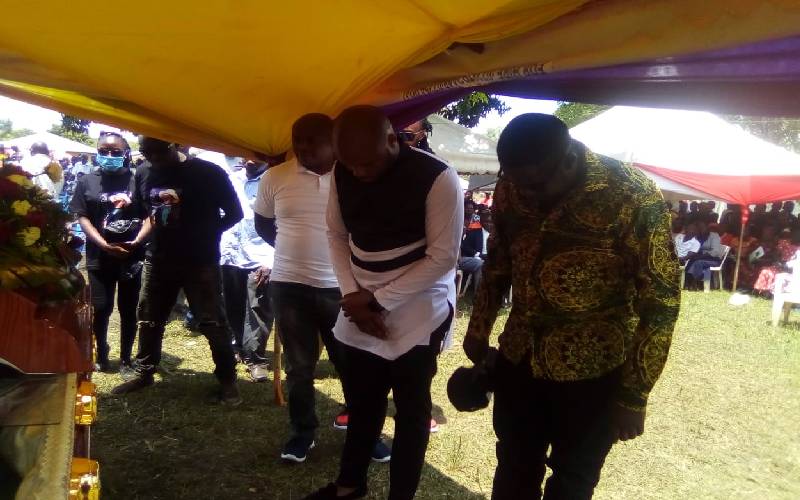 Celebrated Comedian Maurice Omondi, popularly known as Othuol Othuol has been laid to rest at his father's home in Ndere, Siaya County.
Hundreds of his fans, colleagues, family and friends braved the scorching sun to pay their last respects.
Those in attendance included Captain Otoyo, Kiss FM Presenter Felix Oduor aka Jalan'go, Daniel Ndambuki aka Churchill, MC Jessy and local leaders led by Central Alego MCA Leonard Oriaro.
During the funeral service held in Sigonga village, mourners praised the fallen comedian who died two weeks ago as a very talented person.
Artistes eulogised him as creative, funny but stubborn, saying his talent was unrivalled and highly valued.
Mourning a son
Speaking at the funeral, Churchill, who eulogised the late Othuol as a son and a talented man, urged comedians to be disciplined and consistent if they want to go far.
Take a quick survey and help us improve our website!
Take a survey
"You have to work hard once you begin, becoming a brand needs discipline and consistency," he said.
He said the journey in the laughter industry has come a long way, advising fellow artistes to focus on the trade and make their families happy.
Jalan'go also said Othuol was like his son, adding they first met met at the Kenya National Theatre (KNT).
"When he first came to me, he asked if I could help him to be like me and I said it's possible. That's how I started engaging him in Luo plays, adverts and TV shows," recalled Jalan'go.
He recalled that after becoming popular, Othuol started missing rehearsals.
"He fainted one day and I had to take him out of the stage after people failed to laugh when he staged two comedies," he said, adding that Othuol's died because of depression and other problems he could not control.
Own enemies
Another artist, Onjiri blamed fellow artistes of being their own enemies, saying that they need people to talk to about their challenges.
"It is very sad that after deviating from the platforms that we've been given, we start blaming those who raised or mentored us.
Sandra Anyango, another artist told Standard Digital that Othuol never lacked money to pay hospital bills whenever he was sick because fellow artistes stood with him.
There were light moments when the artistes danced to the tunes of Ohanga musician Otieno Aloka's Kanungo song, which they said was the late Othuol's signature song.
Comedian Sleepy, recalled how Othuol led a strike at a hotel in Nairobi for being paid Sh500 per night.
"What we were demanding was a drink (Alvaro) on top of the Sh500," said Sleepy amid laughter from the crowd.
Andrew Oduor (Tumbili) said Othuol was not a self-centered person and created content for many.
Alice Owino, an aunt, said they were never prepared for Othuol's death, saying that he heard of her nephew's death on radio.
His father Peter Omondi, said comedy followed his son in his entire life.
"He changed his name twice and his name Othuol Othuol was also a comedy," said his father, adding that when his some became number one in class four term one, he decided to be number last the following term because his father never appreciated him.
He recalled how his son would lie to him that he was participating in all games, only to realise that he was in comedy.
Omondi, who eulogised his son as stubborn but with calculated moves, said he never knew his son was a celebrity until he first saw him appeared in a TV comedy show.
"I became very happy when I saw him on TV and it was really encouraging. I realised there was something special in him," he recalled, adding that Othuol's siblings have developed interest in comedy since then.
Othuol's aunt, Rose Apondi, who raised him up, recalled how he got the name Othuol.
"He would talk a lot while in school and his fellow pupils would mock him in Luo that "nyathi ma onge nungo ka thuol ni" (this boy with a small waist like)," recalled Apondi.
She said that her nephew, who fondly called her "Jaber" (beautiful) wanted to plaster her house at home but he died before doing so.
Trace his mother's grave
His elder brother, Kevin Otieno told the mourners that they never knew each other until 2011 when he came home to trace where their mother was buried.
"He was disappointed when he heard that our mother died and was buried in 2003. He didn't have a chance to see our mother," narrated Otieno, adding that his late brother had planned to introduce him to his friends.
Otieno said that he had very difficult times to convince his brother to live or die.
He explained, "He was depressed because as an artiste, he had a big name but was unable to sustain his life. He also didn't know how to balance between his social life and career."
Oriaro, who said that Othuol's village has produced many prominent people in the society, claimed that life in the entertainment industry is challenging.
"This industry requires government subsidy in order to cushion our artistes," said Oriaro.