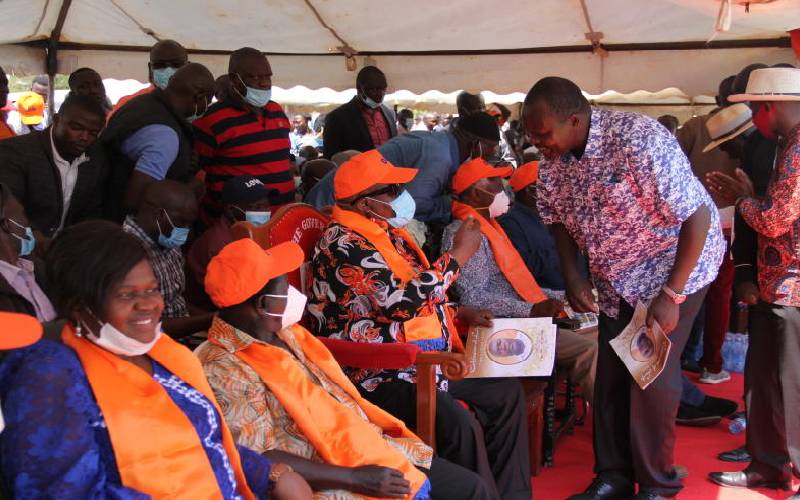 Homa Bay Woman Rep Gladys Wanga and former Trade executive Carelus Ademba clashed over the county gubernatorial succession politics.
The two differed during the burial of Karachuonyo Constituency ODM Chairman Tedly Ogola at Oriang' village on Friday after Ademba told Wanga to drop his bid and wait for a Cabinet appointment.
Ademba who has declared his interest in the seat told Wanga and ODM National Chairman John Mbadi to drop their gubernatorial ambitions and concentrate on the national politics.
He argued that Wanga and Mbadi will get plum State jobs after the 2022 General Election.
Read More
"Wanga is the only charismatic woman in the greater South Nyanza in whom people have hope of becoming a Cabinet Secretary while Mbadi can become the Majority Leader in the National Assembly. Let them concentrate on the national politics," Ademba said.
Wanga, however, dismissed Ademba's claims and insisted that she will contest the gubernatorial seat.
She argued that Ademba was wrong in telling her a seat she should hold in the country.
"I will not change my aspiration for the gubernatorial post. Let him prepare for a stiff contest," Wanga said.
The burial was also attended by other politicians among them MPs Ong'ondo Were (Kasipul), Adipo Okuome (Karachuonyo) and former Kasipul MP Oyugi Magwanga who also eyes the seat.
Magwanga urged fellow leaders to give Awiti ample time to serve the people.
"I am still in the gubernatorial race," Magwanga said.
Orata said he will not go home when Awiti's term expires in 2020.
"I cannot be a deputy governor for seven years and go back home. I will be in the gubernatorial succession race," Orata said.
Awiti, however, warned the aspirants to stop tainting his administration's reputation.
"Those who taint my name in order to get political mileage will not succeed," Awiti warned.
These came after businessman Jared Otieno met delegations from all eight constituencies at his Thuon Gweno rural home to strategise on his gubernatorial ambition.
"Let us give Awiti time to complete his term but let my fellow aspirants know that the gubernatorial post is not a preserve for anybody in this county," Otieno said.
Other leaders who have declared their interest in the seat include County Secretary Isaiah Ogwe and KUPPET Secretary General Akelo Misori.