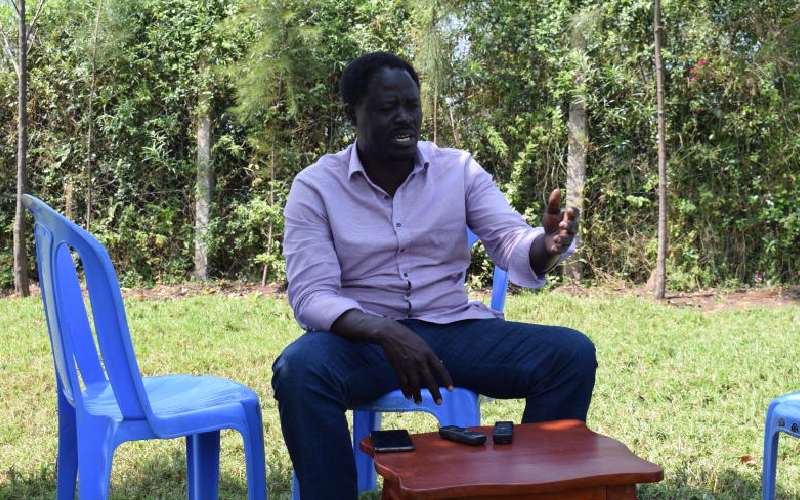 Differences factions have emerged in the ODM top organ in Homa Bay county over recent leadership changes made in the office by the county coordinating committee.
This comes barely a day after the new office bearers comprising Kasipul MP Ong'ondo Were (secretary), Ndhiwa MP Martin Owino (treasurer), Kabondo Kasipul MP Eve Obara (deputy secretary) and Karachuonyo MP Adipo Okuome (deputy organising secretary) were appointed in a meeting called by county chair Gladys Wanga.
A camp led by Party organising secretary and Homa Bay Town MP Peter Kaluma has vehemently opposed the changes, saying the meeting was only attended by the Wanga faction.
Read More
Addressing journalists in Rodi Kopany town on Saturday, Kaluma said he has also prepared his list of the officials to fill in the positions.
In his list, former Kasipul MP Oyugi Magwanga who had returned to the party after leaving it in 2017 will retain his former post of secretary, Lake Basin Development Authority Chairman Odoyo Owidi will be the vice-chairperson while Deputy Governor Hamilton Orata will be the treasurer.
"I am going to present the list to ODM headquarters for the changes to be effected," Kaluma said.
He accused Wanga of convening the crucial meeting without inviting him.
"I was only called during the meeting by Were that he was not seeing me in yet they were in my constituency. I consider that meeting as an informal conversation of friends," he added.
Some of the positions fell vacant after Magwanga (former secretary), former Kabondo Kasipul MP Silvance Osele (deputy secretary) and former Rangwe George Oner left the party to run as independent candidates in 2017.
"Our vice-chairman Tom Dola also died, creating more vacancies in the committee," Kaluma said.
Lacks mandate
Kaluma said Wanga has got no mandate to change party officials without consulting him arguing that the county coordinating committee was formed in a power-sharing deal after a controversial election for the committee chairmanship between Wanga and him in late 2015.
"The committee was formed through consensus which saw Wanga become chairperson while I became the organising secretary," he said.
He said the consensus was also used in filling other positions in the committee in which the officials were drawn from both line-ups.
"This committee was constituted by my line-up and Wanga's, meaning any change should be made through the consent of both of us. What they did is wrong and unacceptable," Kaluma said.
The MP said he wanted inclusivity in the party.
"Our former members who have returned to the party like Magwanga must be incorporated in the party leadership to show inclusivity. I am against any plans to bar anybody from contesting a political seat," Kaluma said.
But Wanga accused Kaluma of being economical with the truth, saying Kaluma decided to skip the meeting despite being invited.
"Kaluma was sent an invitation SMS by our co-ordinator Tom Okong'o. We also informed him a day before the meeting," Wanga said.
She said they made the changes without Kaluma's consent because he failed to attend the meeting.
"ODM is not about Wanga or Kaluma. We made the changes as an office rather than an individual. We will continue with the new changes because we have no room for lone rangers," Kaluma said.