Use handshake to get Msando killers, family tells Uhuru, Raila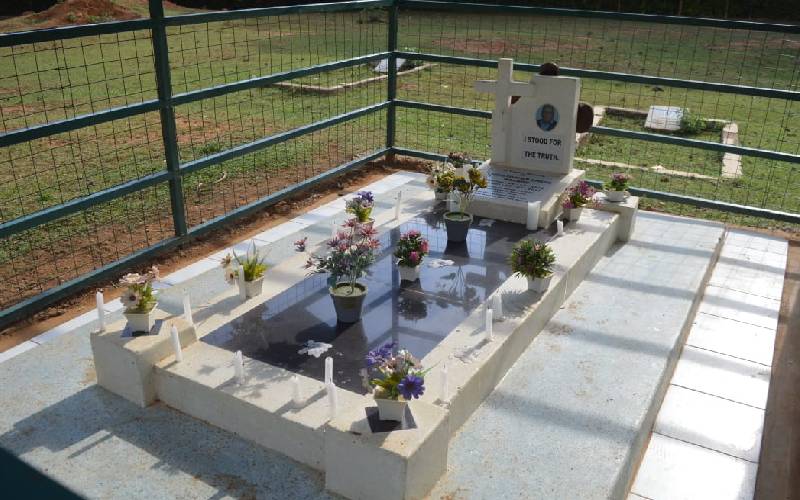 The family of slain IEBC ICT manager Chris Msando, have asked President Uhuru Kenyatta and ODM leader Raila Odinga to use their new-found friendship to find their son's killers.
Speaking during Msando's second anniversary skipped by politicians and widow Eva Buyu at their Lifunga rural home in Ugenya, Siaya county, the family said the handshake will only make meaning to them if the two leaders used it to probe and net the killers.
The family registered their disappointment, claiming they had hoped the handshake would help speed up investigations into the murder, but so far nothing new has come out.
They accused the National Super Alliance leadership of abandoning the family at their hour of need, adding that their quest for justice has been misconstrued by leaders as a quest for handouts.
"It is true that NASA led by Raila Odinga has abandoned our family after Msando's death. They have abandoned their course as well. We want them to know that we do not want handouts but justice," said Peter Msando, the brother to the late Chris and the family's spokesperson.
The family is wondering why more than a year after the handshake, Msando's killers are still at large and not even a single person has been charged in court with the gruesome murder.
"Every time we go to DCI they show us files of other homicide cases, claiming ours happened the other day and we should wait," said the family spokesman.
The family faulted the Government for refusing to accept help from the American and British embassies who had offered to investigate their son's murder.
They claimed that both American and British embassies had written to the family that they were willing to investigate the murder of the late Msando an offer that was declined.
Chris's mother Mary Aloo has accused both Raila and President Kenyatta of failing to get his son's killers even after coming together early last year in the handshake.
"I am hurting and suffering from poor health but the leaders are happy and are not ready to help me get justice. I wish they could arrest his killers so that they can tell me why they killed Chris. I can only let go once we have the truth," said Mrs Aloo.
The 80-year-old granny has challenged the government to find the killers and ask them why they killed Chris in such a cruel manner.
"What was my son's mistake? He was just doing his role. Two years is such a long time, without justice. Why it has taken them such a long time to bring those responsible to book still disturbs me. I wonder what they are doing. Is justice for the selected few?" she asked.
Msando's sister Pamela Ahago questioned why the government is yet to come out clear on who killed him.
Moved on
The family further accused the wife of the late Chris of abandoning the family.
The late Msando's brother said she had moved on with her life and does not respond to their phone calls anymore.
"We don't know why she did not come. She does not want anything to do with us. It seems she has moved on with life. She does not answer my calls but my mother's only," said his brother.
His brother said, their mother asked her over the phone to bring the three grandchildren for their father's anniversary after she refused to take part in the plans, but she declined.
Eva Msando could not be reached for comment.
Msando's former friend Tom Owiny recalled the day he died and how he waited for him but he did not show up and his calls were not going through.
Mr Owiny claimed he still gets death threats and intimidations.
The late Msando's body was found in Kikuyu, off Waiyaki Way, about two kilometres from the main road a month before the August 8, 2017, General Election.