Two fishermen causing airwaves in Mageta island with new radio station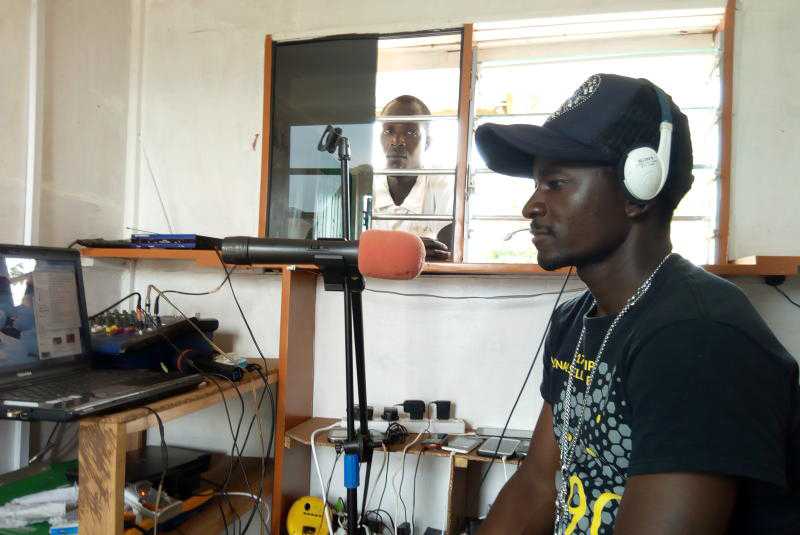 A 30-minute boat ride from Usenge beach leads to Mageta Island, the new home of Bondo constituency's only 'radio station'.
Mageta FM, which has been operational for the past one year, was started as a project by two young men.
The FM radio station is causing waves in the island. It also serves as the County's only invented but unknown radio station covering a distance of two kilometres.
Unlike most of their peers who would spend much of their time drinking or gambling, Peter Kudiva and Mark Muvadi have concentrated on developing their dream radio station which has become the talk of the island.
Their makeshift wooden shop, which also doubles up as a phone charging shop, currently looks like a tourist destination with people from all walks of life thronging to witness and even get a chance to talk on a live radio.
Although they had never been to any radio station or studied in any college, the two fishermen attribute their invention to the communication challenges that the people living in the island face.
Kudiva, who is popularly known as PK, says the brutal murder of his nine-year-old cousin gave him the idea of starting up a platform that would be used to give alerts to the people living in the island.
"My cousin was murdered and we realized about this two days later. This gave me a challenge and I thought that the murderer would have been caught if we had proper means of communication," says Kudiva.
However, Kudiva said although he dropped out in primary school, he has a passion for broadcast journalism and believes his dream will one day come true.
Due to their complicated project in the island where they could not even access enough power, the duo has opted to use solar and battery.
"We cannot run the studio on a 24-hour basis because of lack of power. We use a prepaid solar system," says Muvadi.
Even though there are many renowned radio stations being listened to in the island, Kudiva says their station is unique because it is closer to the people and gives regular updates of what is happening in the island.
"Whenever a boat capsizes in the lake, we are always the first to break the news. There are also cases of people who come to the island but cannot trace their relatives because of poor mobile phone network coverage. If this happens, they always come to us and once we make the announcement, they get help," he adds.
It took three months of intensive hustle for their project to work. Although it only covers two kilometres, they are relieved that the project has finally worked.
"We have already started and what we now need is just a small upgrading and a radio frequency so that it could cover a wider area," Muvadi says with pride.
Their studio comprises of a mixer, two microphones, a laptop and a loudspeaker erected on a tree to transmit the sound.
Although they have not fully commercialized the radio station, it has greatly benefited the surrounding villages in making announcements, advertisements like weddings, fundraisers and funerals as well as entertainment.
"We have been charging Sh50 for any announcement and people now prefer using our station than their phones, which most of the times experience network hitch," says Kudiva, adding that they sometimes go home without getting any announcement.
Though they have become island celebrities, the duo still dreams of joining a college one day to pursue Journalism course so as to expand on their skills.
"With more skills from college I believe we make this station a bigger project and a source of employment for youths with talent," says Kudiva.