Eight killed as matatu and car collide head-on in Homa Bay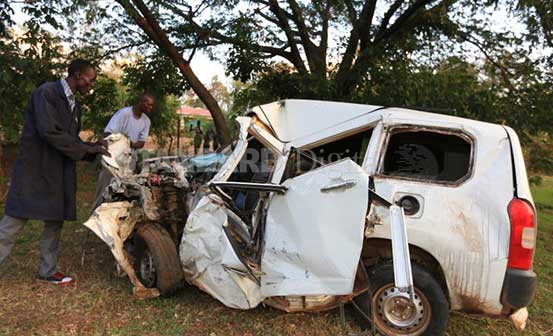 Eight people died and more than ten others suffered serious injuries in a road accident in Homa Bay County.
The crash involved a matatu and a car along Kendu Bay-Katito road.
Nyanza Regional Traffic and Enforcement Officer Andrew Naibei said six people died near Seka Trading Centre immediately after Thursday's 4pm accident while the other two died in hospital.
The deaths bring to 12 the number of people killed in road accidents across Nyanza in just one week.
Late last week, a woman who was among mourners transporting the body of her son for burial to Ugenya from Nairobi was burnt beyond recognition in an accident near Koru. Her husband, son and nine other relatives were injured.
In the Thursday's accident, the car, a Probox, with four occupants headed to Kendu Bay from Katito, which was said to have been speeding, collided with the oncoming matatu head on.
Misjudged distance
"The driver of the car was attempting to overtake a lorry before colliding head-on with the matatu which was headed to the opposite direction," said Mr Naibei.
The officer said the driver might have misjudged the distance between his vehicle and the oncoming matatu.
"He was in a rush and in the process he did not get his judgment correctly," added Naibei.
The officer said that the driver of the car and all his three passengers died on the spot.
The injured were taken to Kendu Adventist Hospital while bodies of the dead were taken to the hospital's mortuary.
The return of road crashes, Naibei said, was an indication that drivers were no longer observing traffic rules.
Rescuers struggled to remove the bodies and the survivors from the wreckage of the two vehicles.
Eyewitnesses recalled seeing the two vehicles cruising from opposite directions before hearing a loud bang.
"The biggest problem on our roads is overloading and speed. Both vehicles were speeding. I don't understand why police arrest motorists driving private cars for speeding and turn a blind eye on public service vehicles whose drivers behave as if they are above the law," said Osman Oduka who witnessed the accident.