Alarm as 2,856 bag relief consignment shows high levels of aflatoxin contamination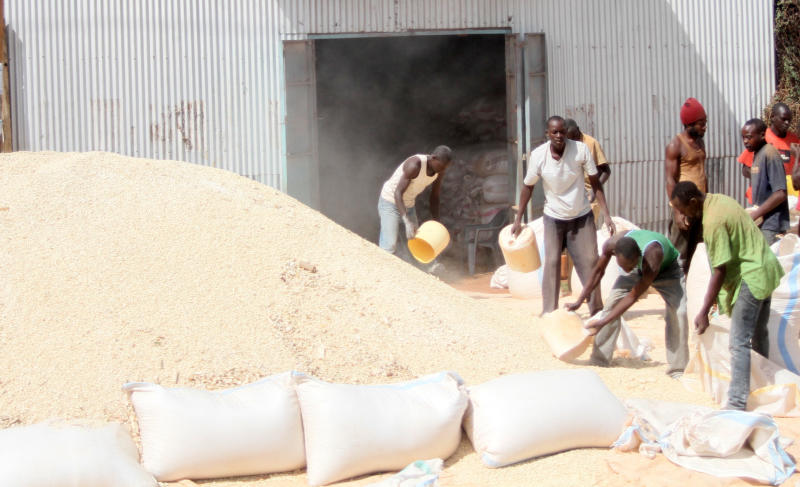 Tests conducted by the county government have revealed that 2,856 bags of relief maize are contaminated with aflatoxin.
County officials took samples of a consignment stored at National Cereals and Produce Board (NCPB) depots after those who had already received the maize complained that the colour indicated the quality of maize could have been compromised.
The complaints came from Jaldesa, Sagante, North Horr and Laisamis.
Health Executive David Timado said public health officers from the affected sub-counties visited NCPB depots and picked samples from the different stores for laboratory analysis at the Government Chemist and the National Public Health Laboratories in Nairobi.
"After a week, we got results from the Public Health Laboratories that were shocking. They revealed a total of 2,856 90kg bags of maize had the poisonous substance that was eight times higher than normal levels," said Mr Timado.
He said apart from aflatoxin, the tests also revealed high infestation of weevils in 460 bags of maize.
Living tissue
Aflatoxins are poisonous carcinogens (a substance capable of causing cancer in living tissue) that are produced by certain moulds that grow in soil, decaying vegetation, hay and grains.
They are found in improperly stored produce such as cassava, chilli peppers, corn, cotton seed, millet, peanuts, rice, sesame seeds, sorghum, sunflower seeds, tree nuts, wheat and spices.
Timado said some of the maize, brought in by the national government, had already been distributed to residents.
He said they had taken away all the contaminated maize and urged locals not to panic as the situation was under control.
"Health officers across the county are on the look-out to ensure that people are not consuming contaminated maize. We will inspect all suspect maize in the markets and schools to avoid a catastrophe," said Timado.
County NCPB Manager Joseph Tuwei accused public health officials of keeping him in the dark over their investigations, saying they took the samples for testing in his absence.
"If anyone comes to your home without notifying you, when you are out on official duty, then tells you they took samples from your stores for testing, how will you even know the results are true?" he said.
But Timado said other NCPB officials were present when the samples were taken. He said they would also investigate how NCPB was storing grains.
To fight drought, involve communities
According to the latest information from the Meteorological Department, rainfall will be poorly distributed in April, May and June, and this will have a serious impact on agriculture