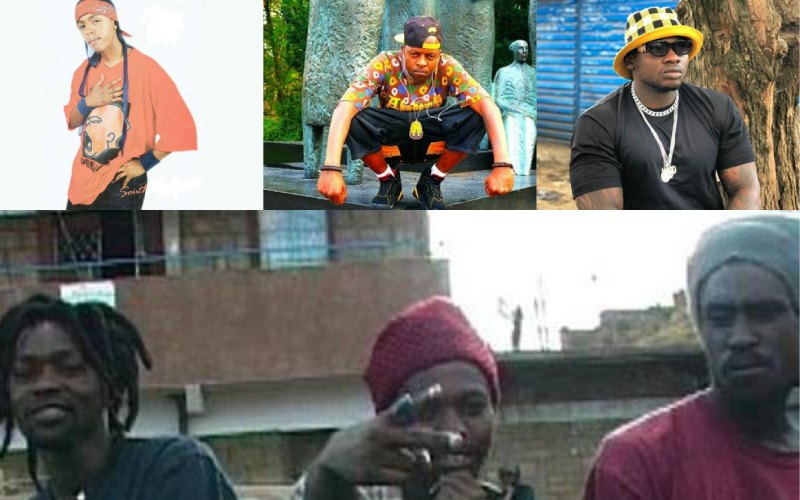 A section of local entertainers credit pioneer musician Jimmy Gichu for having paved the way for local hip hop in the mid-'80s. Others believe it was Jimmy Gathu with his self-recorded classic throwback hit, 'Look, Think, Stay Alive' that changed the scene.
Many, however, credit veterans Kalamashaka rap trio of Oteraw, Kama and Johny Vigeti as the ultimate godfathers of Kenyan hip hop. They crucially paved the way for hip hop to go mainstream.
The group was popular with hardcore rap fans for their socially and politically conscious lyrics.
Their popularity started to wane with the rise of Kapuka and Genge, which were danceable and raunchy to the delight of the youth. The group influenced many other creatives such as Ukoo Fulani, Mashifta, K-South, Necessary, and a horde of other artistes.
"When Kenyan hip hop was real hard-core and Ukoo Flani ruled the airwaves representing Achong Pon Clan from Mombasa, I miss these kinda music," says fellow scribe and hip hop head, Moses Matiba
From then onwards, a bunch of rappers were born; entertainers and icons like E-Sir, Nameless, Abbas Kubaff and Jua Cali, Bamboo, Krupt, Point Blank, Big Mic, Juliani (from Ukoo Flani), Mwafrika, Muki Garang, DJ Zaq, Octopizzo, Rabbit, Moroko, Muthoni, Khaligraph and Kimya came into the scene, took the mantle and continued representing the culture.
The fathers of the new age rappers are most likely Khaligraph Jones, King Kaka, and Octopizzo. They carved out a space for themselves and have remained at the top of the food chain to this day.
Despite the fact that their rap styles are noticeably distinct, they all have origins in the local old-school regime. In fact, Kaka and Khaligraph have both expressed their admiration for hip hop expert Johnny Vigeti, while Nyashinski frequently pays tribute to the late legend, E-Sir.
Kenyan hip hop, like other genres, has continued to take new shape as the years go by. Just recently, a bunch from Eastlands came with their own version, which was later termed as Gengetone.
Ethic Entertainment, Ochungulo Family and Boondocks Gang changed the scene although many felt this was not hip hop. But while they were at it, other subgenres were quickly cooking behind the scenes; trap, shrap and drill slowly overtook them.
The present-day breed of rappers has perfected the art of sampling beats or bass lines from records. When 'mumble rap' hit the streets, it was described as the most vital and disruptive new movement in hip hop.
Credited to Gucci Mane, Chief Keef, and most notably, Future, the rappers were accused of mumbling and use of unclear vocal delivery and did not share the genre's traditional emphasis on lyricism.
Back in Kenya, Trap was taking over. Credited to the likes of Young Thug, 21 Savage, Lil Pump, the late XXXTentacion, among others, critics argued trap is just a phase of the hip hop genre and it's a facade that would fade in due time.
It is still here with us. Some Kenyan rappers have mastered the art and are running crazy with the flow. The likes of Jovie Jovv, Timmy Blanco, Barak Jacuzzi, TwennyEights, Tunji, Groovy Jo, SilversTone Barz and Alliance Domini Family are some of the notable names that have held this genre up.
Although ADF (Alliance Domini Family) trio of Boutros, K-Green and Dope-I-Mean categorise their style as 'Shrap'. Shrap simply stands for sheng, trap and pop music all in one.
ADF claims that they are the new generation of artistes who will put the Kenyan music where it is supposed to be.
"We can call it a revolution because we are doing trap music and making it have that original Kenyan taste in it. That is why we have called it shrap. We are a family that has been together for a while and are pushing forth into the Kenyan industry, also putting the country on the map," said Boutross. While every creative's perspective is different, drill is becoming more mainstream as more young people appreciate the style. Chief Keef's breakthrough hit, 'I Don't Like' is largely responsible for this approach.
This style is almost indistinguishable from trap music in terms of sound. The gradual boom, the rattling sound, and all of the components are essentially the same. The fundamental distinction is in terms of emphasis and attitude.
Police brutality, hood criminality, drugs, and hustling are all prevalent topics in Kenyan drill.
Drill rappers are brutally honest about the harsh facts of life.
GTA, Buruklyn Boyz, Geri Soweto, Olezz Family, and the reportedly godfathers of drill, Scar, Domani Munga, and Sewersydaa of the collective Wakadinali, are a few of the well-known personalities behind drill's popularity.
"These are the new faces of Kenyan hip hop today. They are young, hungry and will make sure hip hop doesn't go away anytime soon. It is artistes like them that are keeping the hip hop fire burning in Kenya and opening doors for those to come," says hip hop connoisseur, Budha Blaze.