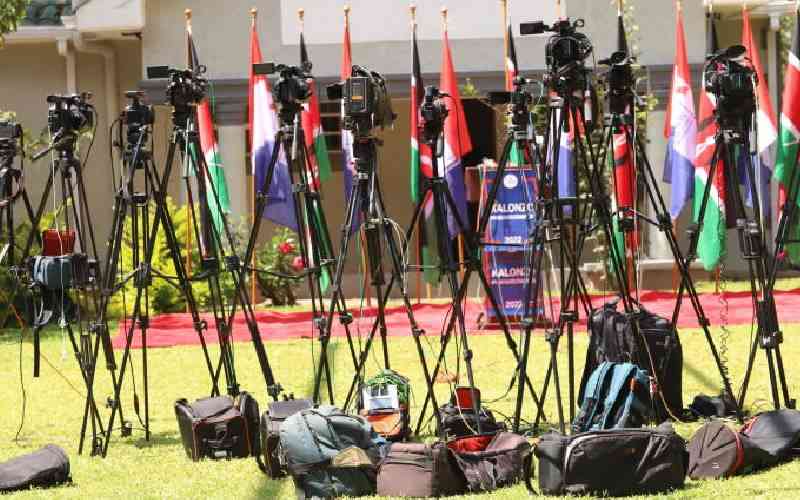 Like most politicians, President Uhuru Kenyatta's relationship with the media has been cold and warm in what experts say was informed by his past experiences with the press.
When Uhuru took office in 2013, many Kenyans felt he had demystified the presidency by bringing himself to the level of the ordinary citizens. However, his association with the media remained on and off.
Former Editors' Guild chairperson Macharia Gaitho says Uhuru's frosty relationship with the press dates back to 2002 when he first contested the presidency.
"During the 2002 polls, he felt that the media had not given him a fair share of coverage. Even after his election in 2013, he still had very deep misgivings of the media," said Gaitho.
Gaitho said this was linked to the wide discussions on whether Uhuru should vie due to the charges he was facing at the International Criminal Court (ICC) a The Hague.
"He still felt that he was not getting a good deal from the media. His deputy William Ruto was easier to deal with. He had grown up in politics in close proximity with the media while Uhuru was distant," said Gaitho.
Three months after his election, Uhuru hosted editors for a breakfast meeting at State House which Gaitho says they were skeptical about.
"We agreed we were not going there to ask for favours. We went there to ask for understanding and media friendly laws. Uhuru was receptive and the revised Media Council Act came up later," he said.
Although this was not all that they had bargained for, Gaitho says the revised Act made the government and the sector meet halfway.
In what appeared as a good relationship and optimal utilization of the media, Uhuru regularly called for press conferences at State House for briefings flanked by Ruto.
The two would emerge to address the media in matching pants, white shirts with sleeves partly folded and red ties in a show of bromance which was widely publicized.
At the end of his speech, Uhuru would always turn back to his deputy and ask him "William, uko na kitu ya kuongeza? (William, do you have something to add?).
Behind the scenes, the press had begun to choke as the Jubilee administration created the Government Advertising Agency (GAA) and MyGov which took away a greater percentage of revenue for media houses.
"These were meant to muzzle the media. With this new strategy, they were saying if you don't play ball, we will strangle you commercially through advertising. It, however, came with scandals," said Gaitho.
The veteran journalist, however, says that this opened the eyes of players in the sector not to allow themselves to be held hostage or be blackmailed by big advertisers for preferential treatment.
"The sacking of some senior journalists critical to the government during the first term indicated succumbing to pressure from government. It greatly impacted on media freedom," Gaitho said.
Koigi Wa Wamwere, a former Information Assistant minister, says denial of advertising revenue to media houses was the greatest undoing of Uhuru's government to the media.
"It was a wrong move for the government. This curtails the growth of the companies which need the revenues for expansion and salaries. The motive was clear, to muzzle their freedom," he said.
Media Council of Kenya (MCK) Chief Executive David Omwoyo, however, says that regulation of government advertising through a State advertising agency ensures prudent public spending.
"The media houses, chronically underfunded, were negatively affected. It leaves questions whether this was an attempt by the government to control the media," said Omwoyo.
On social media, Uhuru regularly updated his socials that Kenyans could tell how his daily schedule was, including events that did not find its way to the mainstream media.
The President was so active that he was in 2016 ranked the third most followed African leader on Instagram.
It was, however, not long before the same followers drove him out of social media in 2019 due to trolls related to his diplomatic trips and foreign borrowing.
"I left twitter because it was full of insults. You login and after reading what people are saying you can't sleep. I would rather sleep or chat with my wife and wake up the next day to continue with my job," said Uhuru.
Gaitho describes social media as a beast that helped build Uhuru's profile and protected his administration from criticism.
"In the first term, there was an upsurge in the number of bloggers whom I called keyboard terrorists. Their work was to terrorize everyone into silence. This was not as good as it was known what they did was orchestrated from State House," said Gaitho.
He says Uhuru could not withstand the heat when he became a subject of vicious attacks, the breaking point being when his relationship with Ruto turned frosty towards the end of their first term in office.
"A lot of the criticism had to do with some dysfunctional sections of government. The heat extended to the crew handling his social media accounts most of whom were loyal to Ruto," he said. Koigi also describes Uhuru as a great beneficiary of the media in building his political career.
"He, to some extent, reciprocated this with an increased media freedom. Some of the radical incidents of media being muzzled cannot be linked to him directly," said Koigi.
He said digital broadcasting promised many benefits to the media houses, the audience, the government and other stakeholders.
"The government, however, did not adequately inform the citizens enough on the migration. Many Kenyans didn't know the difference between digital and analogue regimes, the challenges of digital migration and the benefits of digital broadcasting," said Omwoyo.
Koigi said it was during Uhuru's tenure that new media houses have come up in droves due to change in policies, creating more jobs and entrenching media freedoms.
"Today, we have dozens of local radio and television stations which have increased information reach to Kenyans. Kenyans are more informed," said Koigi.
He added that Uhuru's government had left a remarkable legacy in the sector including the historic digital migration that saw analog signals switched off.
"Although digital migration was initiated by former President Mwai Kibaki, it is Uhuru who repackaged it and implemented it to what the country has today," said Koigi.
The 2015 digital migration left many Kenyans in the dark but Koigi says this was a revolution that no regime in the world could oppose.
"This was a great step forward. It is a global trend and Kenya has been a country of many progressive firsts on the continent. Many Kenyans have since embraced it despite initial resistance," he said.
Omwoyo says the digital migration enhanced the multiplicity of media and saw an increase in radio and TV stations. "The amount of channels you can access through various service providers is amazing. Today, nearly all churches have a TV station. Muslims have their stations. There is variety every time for everyone," said Omwoyo.