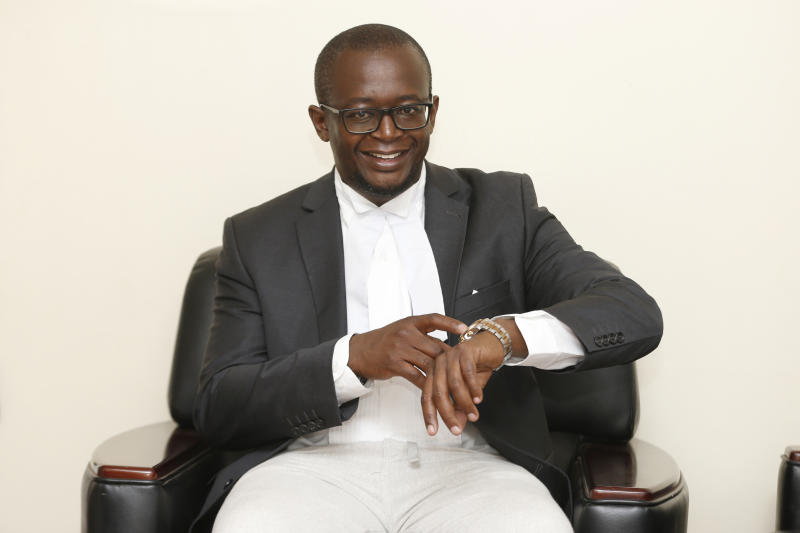 The Nairobi branch chair of Law Society of Kenya Eric Theuri was poised to become the new president of the society.
By the time of going to press, Theuri was leading with 1100 votes. His closest competitor, Omwanza Ombati, had 600 votes.
But Ombati had conceded defeat as early as 8.30pm by posting a congratulatory message to Theuri on Facebook.
Theuri had won at two of the largest polling centres of Supreme Court and Milimani Law Courts. At the Supreme Court station, he had 886 votes while Ombati had 281.
The former vice president, Caroline Kamende, was third while the former treasurer, Bernhard Ng'etich was fourth.
Jackline Ingutia and Ann Kanoti were neck and neck for the position of LSK's Woman Representative at Judicial Service Commission. The position attracted five competitors.
The polls started on a low note across the country with some members saying their names were missing from the LSK voters' register.
The voting was also delayed at some stations and presiding officers said the turnout in the morning was lower.
Ng'etich voted at Nakuru Law Courts and called on LSK members to vote for sober leaders who will lead in a democratic manner.
"The last two years have been chaotic with the minority unlawfully having their way and the majority left wondering what happened to democracy," he said.
He said the next leadership must ensure council meetings are held in a professional manner and decisions are made through a consensus.
"I am confident of winning, but if I do not get the votes, I will support the next leadership to ensure the lost glory of the LSK is restored," he said.
Out of 199 votes cast from 312 registered members at the Nakuru station, Ng'etich garnered 107, beating the other four competitors -- Theuri had 42, Kamende got 32, Ombati received 10 and Mathew Nyabena had 8.
At Kakamega Law Courts, some advocates lamented that their names were missing from the voters' register.
Alex Omasakha, an advocate, said he could not vote because his name was missing. "I am disappointed since I cannot take part in this important exercise" he said.
The Independent Electoral and Boundaries Commission (IEBC) presiding officer Elinda Ochieng said they resolved the matter by engaging the LSK since the register was from them.
Omasakha said that LSK needs a leader who will boldly represent lawyers' interests in a democratic manner and not a confrontational one.
In Mombasa, lawyer Lumatete Muchai who was among members who voted in the morning said they were hopeful their preferred candidate would carry the day.
?At the Mombasa station, 383 members voted and Nyabena garnered 262 votes followed by Kamende with 56 , Theuri with 38, Ombati had 14 and Ng'etich managed 6. There were two spoilt votes.
Among senior lawyers who braved the hot weather to vote included Joseph Karanja Kanyi and Gakui Ngachaku.