What residents heard and saw when power lines collapsed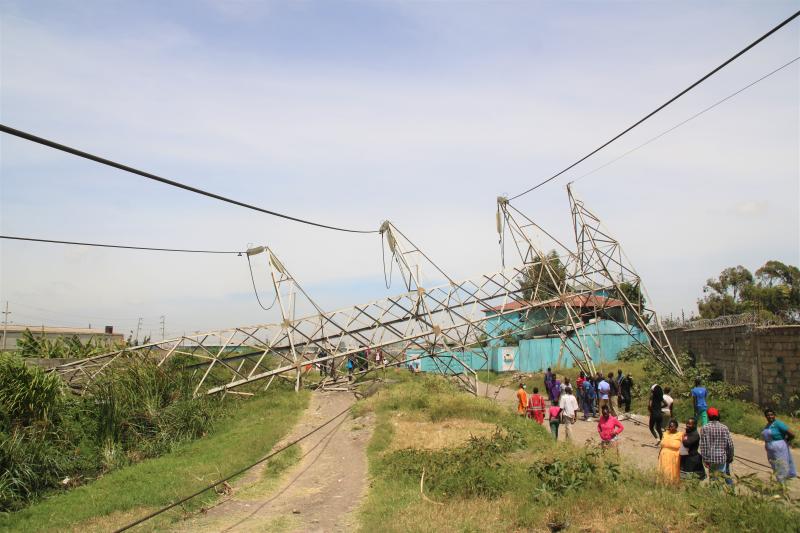 The hitch which plunged the whole country into darkness on Tuesday was caused by the collapse of pylons that support transmission lines at Embakasi, Nairobi.
The Standard visited the area and spoke to some residents about what they saw and how it affected them.
David Onjieku, a bodaboda operator at Imara Daima, said he saw the transmission power lines shaking with fire sparks. He did not make anything more out of it.
He would later hear people screaming from a distance and then see the pylons falling with a loud bang. He says he was lucky to escape before the transmission lines hit him and fellow operators at the Riara stage.
The witness says people who live in houses that are on the wayleave of the power transmissions lines had their way blocked and were forced to look for another way out.
Joel Nyamau says he was at work at the time but the blackout sent him home. He says he is among the people whose earnings were affected after some companies in Industrial Area where he works were forced to close shop for the day.
Abraham Kitemi, a resident in Fedha estate, says the pylons fell as a result of vandalism of steel metals and bolts on the concrete foundations that form their support base. He blames the high demand for steel saying there should be more regulations to the market to avert future accidents.
"How come the pylons have never fallen before?" he poses. He suspects vandalism. "Young men these days do things without thinking much," he says. He cautioned the vandals, saying that they should take time to consider the effects of some of their actions. He compares the vandalism to the one witnessed on the eastern bypass road where barriers have been cut off by the scrap metal dealers who make a killing by endangering the lives of others.
Esther Wanjiru, a Mukuru kwa Njenga resident says she saw fire from a distance but did not know the cause. She did not pay much attention since she thought it was not something big that would affect her. She went ahead with her journey but a few minutes later she saw the transmission lines coming down followed by a loud noise.
Wanjiru ran for her dear life, taking refuge in a gully which turned out not to be the safest option. As the towers came tumbling down the transmission lines found their way into her place of refuge making her run again. She says the blackout affected their day-to-day life, "Some of us had not even charged our phones."