Raila promises youth funds to do business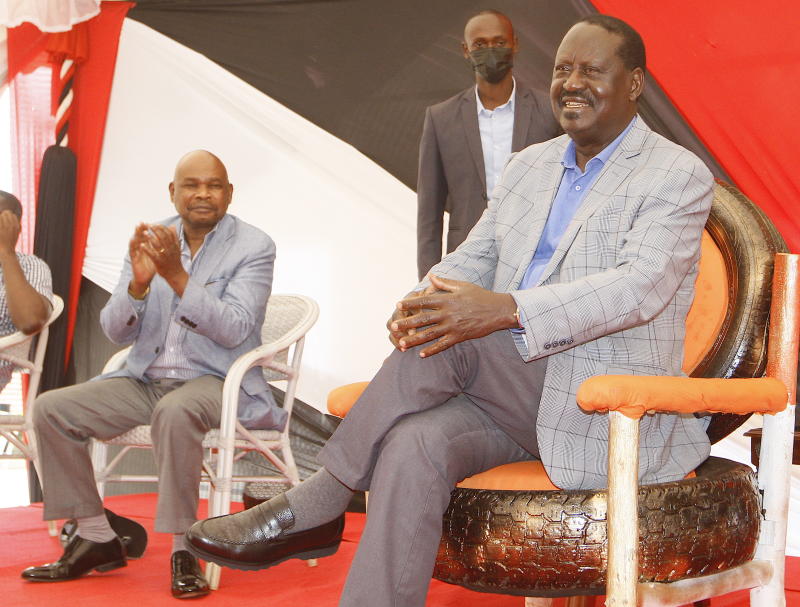 ODM leader Raila Odinga has urged the youth to take up an active role in politics, saying they are key to determining Kenya's future.
Addressing youth from Kiambu yesterday in Nairobi, Raila said Kenya is entering the third liberation which involves the revitalisation of the economy which will lead to job creation and investment in the private sector.
"The economic liberation of our country is a youth revolution. People are looking for jobs in the public sector but opportunities are very limited. Private sector must be the major employer," said Raila.
Raila said for the country to thrive economically, the next government should focus on reducing the cost of energy, deal with corruption and create a conducive environment for investment.
The ODM leader was accompanied by ODM Secretary General Edwin Sifuna, Budalang'i MP Raphael Wanjala, scholar Prof Makau Mutua and Philadelphia-based lawyer Anne Kariuki.
Raila said if he forms the next government, youth will access capital and will only be required to repay after seven years once their businesses make profit.
"When those businesses have taken off, that's when they will be required to pay. Instead of tarmacking and looking for jobs, you become an employer," he said.
"There is a connection between how jobs are made and the government that is in power," said Sifuna.
Raila further blamed corruption in government for stifling investment as a result of frustrations and long procedures required for an opportunity to invest.
"Right from immigration through the government, brokers and corruption in the system frustrate them (investors) to leave this country and go invest elsewhere," said Raila.
The ODM leader said the issues are not only limited to international investors but also local investors and entrepreneurs. He pledged to formalise the private sector and rid the country of, "these officers called kanjo who harass traders."
"We can formalise the jua kali sector, put up proper shade for them and give them proper capital for their business," said Raila.
He took issue with the idea that working in government offers a promise of fortune especially through corrupt dealings. He pointed that such an attitude is what propagates corruption. Raila said the public service "is for those who want to serve."
He reminded the youth of the ten-point agenda of the Azimio la Umoja which aims to offer universal healthcare, social welfare schemes like the Sh6,000 stipend a month for poor households and fight against corruption.
He assured the youth that he knows where he will get money to fund the Azimio agenda.
On youth voter apathy, Sifuna said: "Even if you are not interested in politics, those decisions the leadership is taking, affect you directly as a young person."
Raila is expected to hold a rally in Thika on Saturday, to popularise Azimio la Umoja and his presidential bid.