Four men 'trying to grab' Uhuru's land detained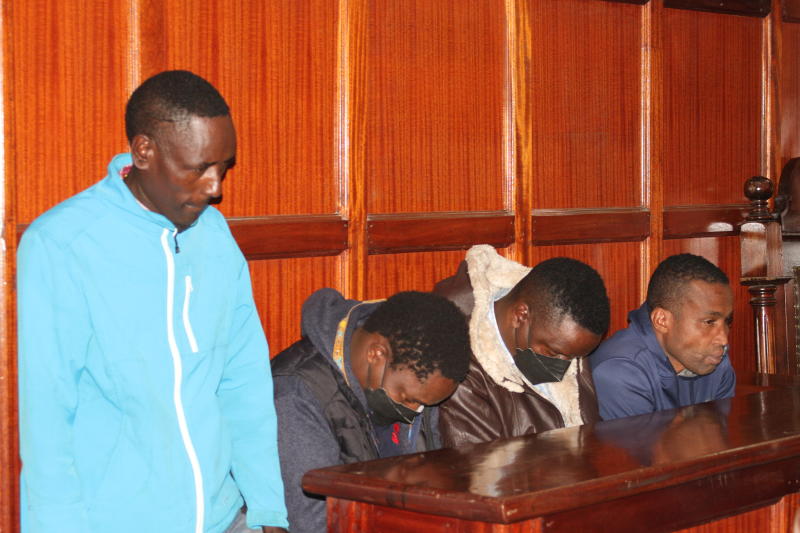 Four men accused of spying on President Uhuru Kenyatta's land in Karen, Nairobi with intention to grab and sell it have been detained for two days.
Nairobi Principal Magistrate Jane Kamau allowed the police to hold Mohamed Muhammud, James Opere, Jonah Tuuko and Samakin Lesingiran to allow the police to conclude investigations into the circumstances that led to the invasion of the president's property.
"They will be detained till tomorrow after which they will be released on a police bond of Sh30,000 each to allow the police complete investigations," ruled Kamau.
The prosecution, through State prosecutor Fredrick Kimathi, had asked the court to allow the police to detain the four for seven days to allow investigations into an alleged fake title the suspects were reportedly using to claim the president's parcel of land.
According to the prosecution, the four went to the piece of land on Windy Ridge on January 3 without the owner's authority and started searching for beacons with an intention to sell it off.
"They were arrested by officers from Karen Police Station and after interrogation, there is reasonable suspicion that they are in possession of a forged title deed which they are using to lure unsuspecting people to buy the land," said Kimathi.
He submitted that despite the fact that the land's owner is known, there is another "fake owner" with a forged title deed which is being circulated.
The investigators want the four suspects to assist in identifying the source of the fake title.
Kimathi added that the investigators are closing in on other people who might be behind the alleged scheme to fraudulently grab the land and want the four suspects to assist them in identifying them.
The investigating officer, Lawson Shuma, in his affidavit to support the application, swore that the four suspects are indirectly connected to other accomplices who are still at large and that their detention will enable him recover the forged title deed.
"It will be appropriate to investigate the motive behind the forcible entry into the land," swore Shuma.