The fun, witty side of President Uhuru Kenyatta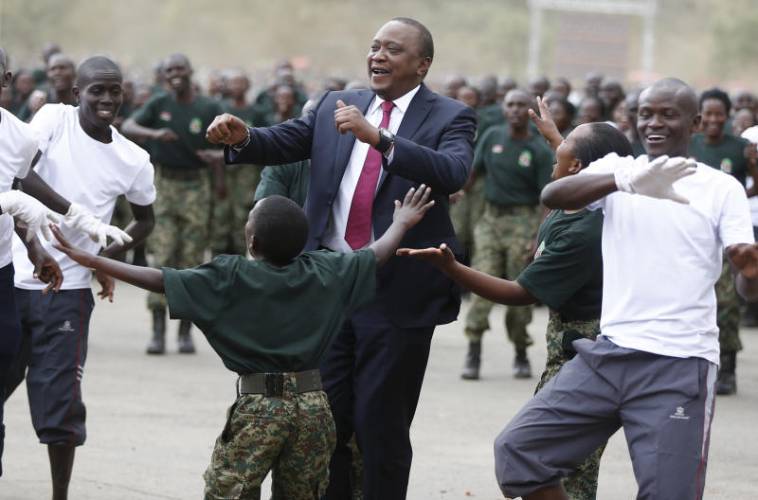 The more things change, the more they remain the same. And in these stints of change, President Uhuru Kenyatta has stood out as an astute performer.
Leading the country for nearly a decade, what has conspicuously transformed about President Kenyatta would have to be his dress code and the fact he broke political ties with his deputy William Ruto and shook hands with his political nemesis Raila Odinga. At least that's what the public sees.But that is just one facet of the president's many faces.
To his friends, the president is just another comrade who chats with them on WhatsApp, calls them back if he misses their calls and offers a helping hand when in need.
"He is a true friend," says Billy Arocho, an old friend of the president from their days in Kanu.
Arocho's memories with the president are dotted with comedy. During the president's return visit from Nigeria in 2014, Arocho and another friend were at the Jomo Kenyatta International Airport ready to welcome their buddy back home. With no VIP identification, security showed them out.
"We walked out toward the traditional dancers and they offered us their dancing attire. With that, we went with them to the runway," recalls Arocho.
With poor dancing skills, they masqueraded behind the lead dancer till they got close to the president.
"It is Ruto who saw us first and signalled jokingly to the president that, ona hawa wakora wako."
Arocho says the president burst into a long laughter and ordered they be brought to the VIP section of the airport.
"When we met in the VIP section, he laughed and asked, Kwani siku hizi mmekuwa dancers?" says Arocho with laughter making its way back from his fond memories.
But Arocho says it was during the president's campaign in Turkana that he saw another side of him. A side far from the idealised son of the first president who lives in a golden castle with no knowledge of the world around him.
"We were in the best hotel in Turkana but it had no shower."
The bathrooms were outside and to take a bath, one had to use a bucket.
"I woke up early because I had to see it with my own eyes," says Arocho. "As if it is something he was used to, he picked up his bucket of water and headed to the bathroom."
From the people who know him, what is constant from the president is love and loyalty to his friends. These are not the men and women who walk beside him wearing suits and call him "Your Excellency" but those he has walked with him from his time as an infant in politics and before.
"Uhuru is very smart. He has friends all over the country and I am not talking about those bureaucrats around him. The people you see around him are his workers. It is us he calls when they are gone," says a long term friend of the president who agreed to speak on anonymity. We will call him Musa.
Musa comes from Homa Bay and his relationship with the president dates back to the 90s. He says if there is someone who understands the realities of this country and everyone in it, then it is the president.
"He can even tell you where you slept last night," says Musa, half in jest, half in earnest.
According to Musa, the president has close friends across the country and these are the people he consults nearly on a daily basis to keep abreast with realities on the ground. For a man born into the first family, schooled in the best schools and later becoming president, it would not be wrong to assume that the president is not in touch with the strife Kenyans are facing. However, his friends tell a different story.
"He is very aware. He knows it from my own experiences because he has helped me when my father was extremely sick," recalls Arocho.
Is there something people don't know about the president and how he runs his government? "He doesn't want corruption. He is very keen when it comes to money and always want things done how they were budgeted to the last shilling," says Arocho.
Musa blames government officials for telling the president lies instead of giving him the real picture.
"Many of the bureaucrats like lying to him and tell him what they think he wants to hear. He does not listen to them so he consults a lot and to get the honest truth, he comes to people he can trust and people who don't fear telling him the truth," says Musa.
"The impeding factor to his vision is politics. From a personal perspective I know all he wants is to do his work," says Arocho.
Musa doesn't refer to the head of state as the president.
"Uhuru is a patriot and I am not just saying that because we are friends."
He says although he is not working for the government, the president ensures his friends are his eyes on the ground. They are the ones who update him on how his projects are being conducted and whether the state officers tasked with the job are really doing the job.
"He doesn't like the normal system so he relies on us to update him on the details on the ground. We hold a lot of say," explains Musa.
But Musa feels disheartened that a huge chunk of the population doesn't appreciate Uhuru's vision.
"People say he has wasted a lot of money in development projects such as roads but he knows that when you open up the country, you boost economic development. Look at Limuru for example. In 30 years, we will remember him for these projects," says Musa.
Although the president's personal image has been sewn together with triumphs and failures of his government, there are still many facets of the man behind the president that only those in his inner circle will ever know.