Electoral agency accuses Court of Appeal of using non-existent law on BBI verdict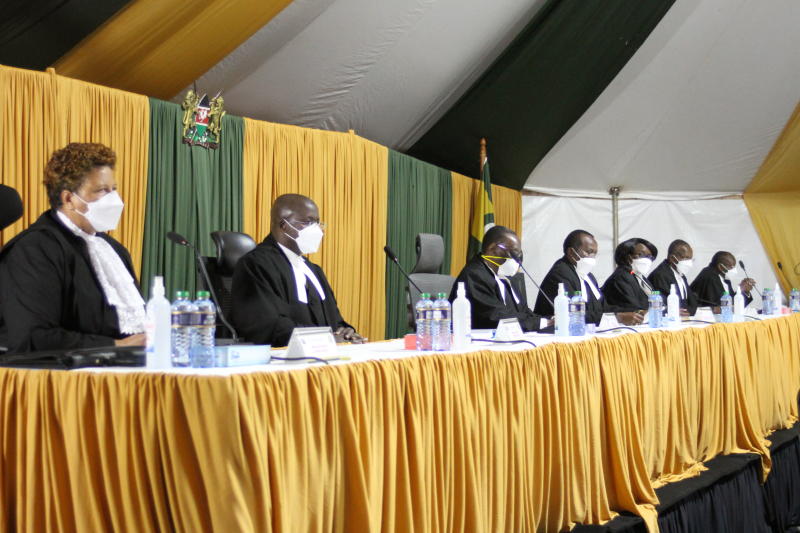 Independent Electoral and Boundaries Commission says that the Court of Appeal used non-existent law to find that it had no quorum to verify Building Bridges Initiative (BBI) signatures.
In its new filings filed before the Supreme Court, the electoral agency argues that sections of IEBC Act, which the Court of Appeal and High Court relied upon to fault it on quorum, had been quashed by the High Court in a case filed by Katiba Institute.
"The findings by the High Court and the Court of Appeal were based on provisions that did not have the force of the law. In essence, the superior court's relied on non-existent laws," argues IEBC.
Court of Appeal held that the commission ought to have at least five commissioners to have a quorum. However, the decision was not unanimous.
The electoral body is aggrieved by the court's finding that it does not have a quorum. IEBC is, however, satisfied by Justice Fatuma Sichale's finding, thus, it will only appeal the verdicts by her six colleagues led by Court of Appeal president Daniel Musinga and Justices Roselyn Nambuye, Hannah Okwengu, Patrick Kiage, Gatembu Kairu and Francis Tuiyott.
According to the commission, since the resignations happened between 2017 and 2018, the Court ought to have constricted its orders to the case as prior actions will be affected.
It also argues that the High Court and Court of Appeal erred by finding that it ought to have verified whether BBI promoters had conducted public participation. IEBC says the law only provides for it to verify whether they had the numbers.
David Ndii, Jerotich Seii, Jane Ngondi, Wanjiru Gikonyo, Ikal Angelei had gone to the High Court seeking to stop the attempts to amend the Constitution.
The petitioners, through lawyer Nelson Havi, urged the court to declare that five chapters of the 2010 Constitution – Chapter One, Two, Four, Nine and 10 – form the foundation of the country and cannot be altered or changed through amendments, either through Parliament or popular initiative.
The crux of the case is that subjecting the four chapters to changes would result in a complete change of the entire law.
"If certain fundamental Constitutional provisions, principles and values are amended or seriously altered, the life of the Constitution will come to an end," the petition reads.
Meanwhile, two professors want to be listed as friends of the court. Prof Richard Albert based in Texas, USA and Prof Yaniv Roznai from in Israel argue that they have experience that would benefit the Supreme Court as amici curiae (friends of the court).
The case will be mentioned on October 21.
Download the BBI Judgement by all seven Judges - Civil Appeal No. E291 of 2021