BBI flop is writing on the wall – DP Ruto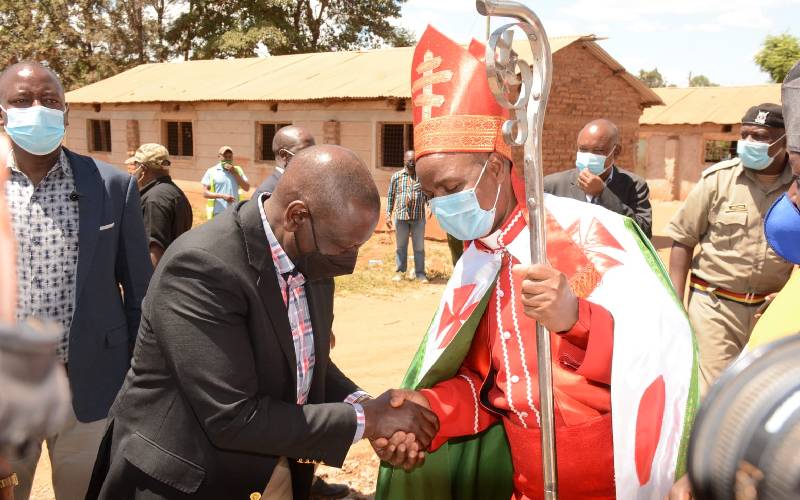 Deputy President William Ruto has taken a jab at the proponents of the Building Bridges Initiative, saying it is not enough to have power and influence, and little thought for ordinary people.
"Don't use your power for selfish reasons to help those capable and hurt those without jobs."
Speaking in Mwea after attending a church service, the DP said more Kenyans needed to be involved in the process that he says was rushed.
He thanked the court for stopping the BBI reggae, which he said stalled the Big Four agenda.
Ruto asked parliamentarians to focus on amendments that boost development in healthcare and housing.
He called for a robust vaccination programme that will boost the percentage of those who have taken the jab.
Ruto said the Court of Appeal decision that halted the BBI caravan on Friday proved that Kenya "is governed by the rule of law and not the rule of men".
Addressing journalists at his Karen residence a day after the ruling, the DP said it's high time President Uhuru Kenyatta's government shifted its attention to matters that were given a wide berth after the BBI constitutional change push was birthed.
The DP lauded the Judiciary for withstanding immense pressure from other arms of government during the BBI push.
The Court of Appeal on Friday, August 20 ruled that President Uhuru Kenyatta's attempt to change the Constitution through the BBI process was unconstitutional.
A majority of the judges ruled that Kenyatta is not legally allowed to initiate changes to the Constitution through the popular initiative, an avenue reserved for the common mwananchi.
Justices Roselyn Nambuye and Hannah Okwengu observed that delimitation functions belong to the IEBC, and the agency should, therefore, be actively involved in the process. The BBI proponents did not consult the IEBC while suggesting an increase to the number of constituencies from 290 to 360, the jurists said.
A majority of the judges further ruled that the Constitution of Kenya has a basic structure, which should be protected, and that proposals to change the structure must attract overwhelming support from the citizens.
The support, the judges observed, can take the form of a successful Referendum, but before the Referendum is held, adequate public participation must be conducted.
Download the BBI Judgement by all seven Judges - Civil Appeal No. E291 of 2021