Chilobae is back, careful you don't earn yourself a ChiloBlock!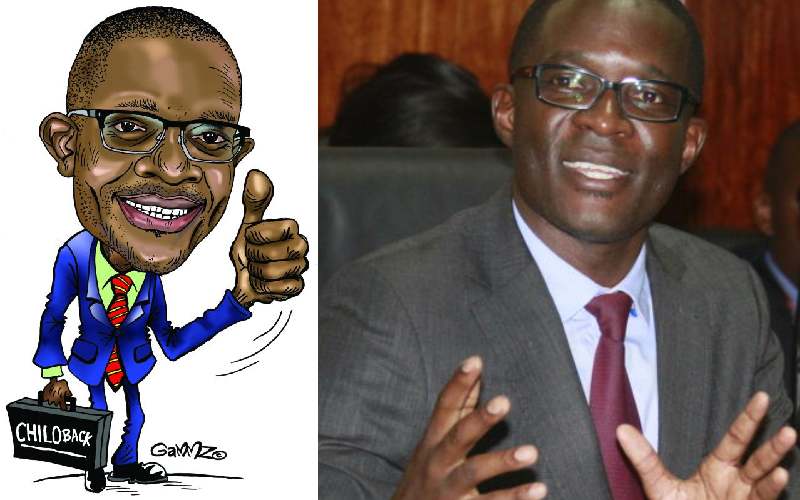 Ladies, Ezra Chiloba–upright of gait, baritone of voice, spectacled of eye, broad of smile, white of teeth, articulate of speech, Adventist of faith, Ivy-league schooled, the man who made your knees weak, the same one who stole your hearts–is back!
Remember Chiloba? The guy your girlfriends baptised ChiloBae? And you ChiloBye? Well, you might as well call him ChiloBack.
He is back as the Director General of the Communications Authority of Kenya (CA). His new role has him serving at a similar pay grade as his last job at the Independent Electoral and Boundaries Commission (IEBC).
The roles include some of the jobs that the moustachioed Deputy Jesus thought were his. Unlike Ezekiel Mutua, Chiloba has power over social media as CA regulates that space.
His agency can have your social media accounts pulled down and snoop on your conversations. He is also in charge of the body that controls Internet speeds, which are critical in the transmission of election results. More pertinently, he can block you eternally from the new age civilisation. Ladies and gentlemen of the interwebs, be careful what you post out there. You wouldn't want to earn a ChiloBlock!
The last time Chiloba was around, he was the IEBC CEO. And allies of Baba wanted him gone. They claimed that he was among the people who had allegedly made our electoral systems weak, by letting some people steal the election.
For weeks, they camped outside his office, hoisting placards that said what their voices never grew tired of singing: Chiloba must go!
As an irreducible minimum, they wanted him out before the repeat election. They said they couldn't trust him after the IEBC was found to have bungled the 2017 presidential election.
Despite all that, Chiloba stayed on, promising to oversee the repeat election. To solve the trust issues, Chiloba asked Baba&Co to abandon the streets and come to the dialogue table. But he would have had more success running a barbershop in Jamaica than trying to convince them to end the "Chiloba must go" chorus.
The then enemy of the opposition is back, this time at a job that involves overseeing servers, similar to those the now defunct National Super Alliance (Nasa) accused the IEBC of refusing to open.
Baba's guys wanted Chiloba's then boss, Wafula Chebukati, gone, too. Some lawmakers from ingo, led by Mumias East MP Benjamin Washiali, would come to their defence, accusing Baba's men of unfairly targeting the sons of Mulembe.
With that backing, perhaps Chiloba and Chebukati only needed to stick together to survive the opposition's torrents.
But the two could not see eye to eye. Days after the Supreme Court nullified the presidential election, their relationship soured, evidenced by their communication only being done through memos.
In the ensuing weeks, Chebukati, too, found the "Chiloba must go" song irresistible. Both men traded blame on several issues.
Chebukati finally suspended Chiloba, who was later reinstated by the court, only to be sacked again in mid-2018.
As the curtain fell on his three-year stint at the electoral agency, ChiloBae retreated to his home village in Kitale, trading ballot boxes for a wheelbarrow and a tractor, taking up a farming life he had started adapting to in 2017 when the voices demanding his exit from the IEBC grew louder.
Months later, a "me earlier" photo of Chiloba would make Kenyan ladies re-evaluate their tastes. But not even that was enough to rid them of their crush on ChiloBae. And now he is back.