Mudavadi tells state to release TJRC report, address land issues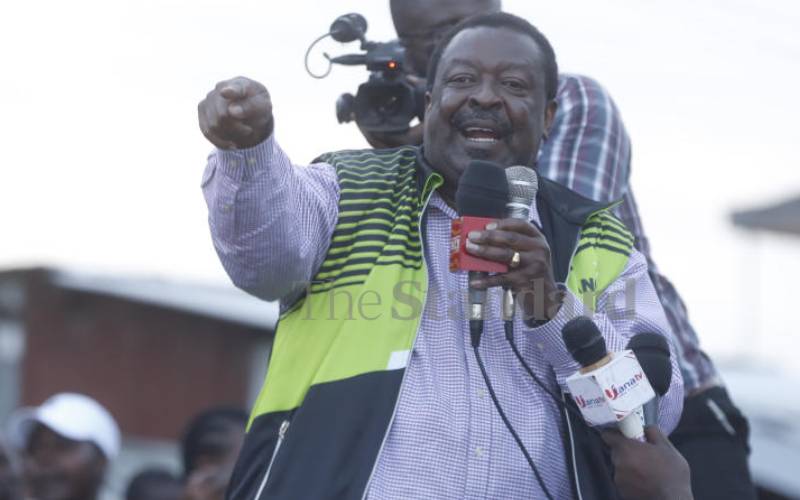 Amani National Congress (ANC) party leader Musalia Mudavadi has asked government to make public the Truth, Justice and Reconciliation Commission (TJRC) report and implement the same.
He said the TJRC report is key to addressing land injustices.
At the same time, Mudavadi revisited the emotive debate of internally displaced persons and the post-election violence.
He regretted that some IDPs have never been compensated and they continue to live in squalor.
Mudavadi noted that some Kenyans who were affected by the clashes of 1992, 1997 and 2007/08 and have never been compensated.
Speaking at St Lucia Echariria Catholic Church in Gilgil Constituency, yesterday, the ANC leader blamed politicians for violence that rocks the country every electioneering period.
"As we head to elections, we must be careful with our words and actions. We should desist from utterances that whip up ethnic emotions," he said.
Mudavadi said every Kenyan has a right to live and work in any part of the country.
He called for political tolerance and peaceful campaigns ahead of the 2022 General Election.
Mudavadi said no region should be left behind in development if the country's economy is to grow.
"Every part of this country should be developed and allocated resources in an equitable manner. No region should be left behind. We should be able to give the counties a minimum of 35 per cent of the national revenue from the current allocation of 15 per cent," he said.
He was accompanied by Lugari MP Ayub Savula who termed Deputy President William Ruto's criticism of the government he is part of a joke of the year.
Savula said Ruto's claims that the government had failed to develop Nyanza is akin to a cook disowning the food he has prepared.