Football on the pitch, death off it: Retracing Masten Wanjala case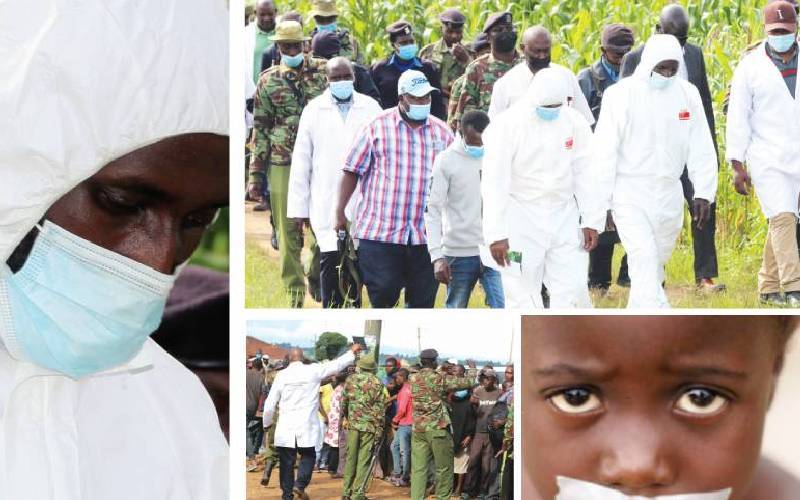 For five years, Masten Wanjala put homes through untold suffering - if police accounts of his unsworn confessions are anything to go by.
Wanjala is believed to have kidnapped and later killed at least 10 children, his victims spanning various towns and cities.
But behind the path he had chosen, the Directorate of Criminal Investigations (DCI) claimed he admitted to killing his first victim at the age of 15, Masten had a past. He had a life.
He cut the image of a respectful young man, eager to please those around him. Nobody suspected him. Nobody knew of this dark alter ego. Until June 14 when Masten allegedly confessed.
His arrest brought closure to some, but it also reawakened years of hurt among the families of his victims. Unnoticed for years, the murders he is said to have committed came with collateral. Bonds fostered over years between neighbours were broken, lives have been lost, all in a quest by family members of the dead to access some form of justice for the murders of their children.
As he waits to be presented in court, the consequences of the acts he is accused of, have become bigger than him. Dreams of entire families have evaporated with the discovery of the bodies of their children, as pointed out by Masten.
Collateral damage
In February 2018, 13-year-old Emmanuel Wafula left home and never returned. Two days later, a search team, made up of volunteers drawn from groups of relatives and neighbours, stumbled upon the young boy's body. It was clear at that time that young master Emmanuel's death was a painful one. His last moments on earth were not the best. This pain that he went through quickly cut through the village. Soon after the discovery of the decomposing body in a pit latrine, a villain was identified.
The villain was in the form of Haron and Mary Ajega, an up and coming couple.
"Everybody believed it was us who killed that boy," Mary says. "I will never forget what followed next."
Within a few minutes of discovering the body, the mob was baying for blood. And they got it. And then some more.
"They attacked my husband and dragged him from the house," Mary says. "They wanted to kill him. Pay for the boy's life with his life."
According to those who were present on that day, everyone believed Haron was behind the killing. The evidence was simply overwhelming, so they stormed his homestead and set seven houses belonging to his sons ablaze. The fires ate up everything that the Ajegas called their own.
"I don't know why they did this," Mary says. "I tried to reason with them. Plead with them. I cried out to them. But they didn't listen."
At the time, she says her husband was unwell and that he had spent a better part of the day in bed. Recuperating.
But before they turned their rage onto Haron, he slipped away, hang onto a boda boda and surrendered his life to the boda boda rider who sped into Kimili Police Station.
Haron survived. But not for long.
Although there was no evidence linking him to the murder of the child, he already felt condemned by a community he thought he belonged to. The very people he called friends now looked at him like the enemy.
Where his homestead once stood, now was rubble. His reputation in tatters and the murder tag slapped on his back.
"He never recovered," Mary says. "The rumours… the whispers…the accusations were all just too much for him."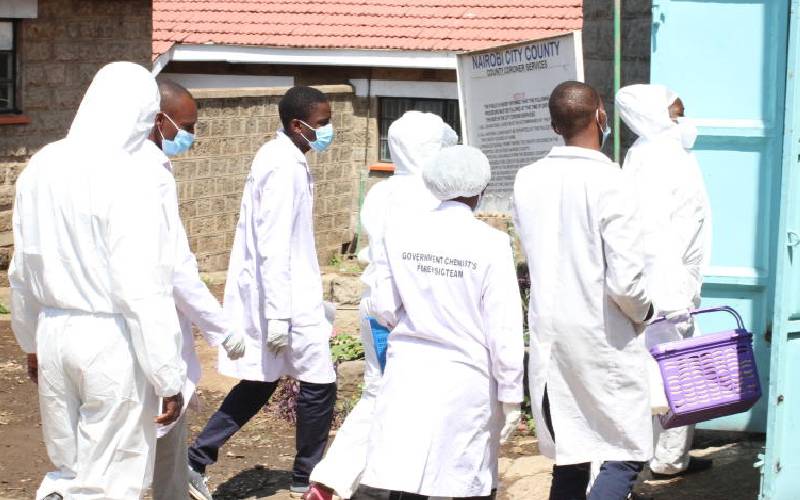 After the incident, the Ajegas moved away, running from everything that could remind them of the head of the homestead. Running from all the accusatory eyes. Running from the whispers and rumours. First to Kisii and later on to Trans Nzoia, where they were hosted by a pastor.
No matter how far they went, Haron could not run faster that the allegations that were always over his shoulder.
"He was traumatised and developed health complications as a result of the rejection we received from neighbours," Mary said.
Haron died last year at Webuye Referral Hospital from high blood pressure and other related ailments.
"They killed him…and for what?," she asks. "I wish mzee would have not died last year to witness God vindicating him," Ms Ajega says.
Part of the Problem
On the day the Ajegas' homestead was razed, someone in the crowd knew what had happened. But like many other good people around, this 17-year-old boy chose silence. The voices in his head, the memories in his mind remaining under lock and key away from all prying eyes- well, at least for the next three years.
At the time, only he knew the truth. The truth of what had happened to the young Emmanuel, and unfortunately, to many others before him, and many others after him.
For Gladys Wanyonyi, Emmanuel's mother, her truth came in different shades of emotion. Shock. Anger. Grief. All rolled up into one incomprehensible ball that rose and fell with her screams, heaves and tears. Before neighbours called her after discovering her son's body in the latrine, she still held on to hope that her son would come back home, perhaps from an unexplained visit to an aunt's home.
"It is painful to lose your child in such circumstances," Gladys says. "What did he do to deserve that kind of death.
After the turbulence that the murder caused, Gladys now says her life is in danger. The DCI confessions said to have come from Masten doing little to ease her pain.
"I have already lost my son," she says. "There are people who were accused of killing him. With what has now come out, maybe they might want to come for me."
She says she is now fearing for her life.
Bungoma County Police Commander Mutungi Musioki advised her to report any threats to the nearest police station.
"We shall ensure her security for as long as long as it takes. Criminals do not have any space in our beloved country and we will deal with them mercilessly," Musioki said.
At Kingstar Academy in Kimilili, the young boy is still remembered by teachers and classmates. They say he was a playful boy. Full of life. Good at sports.
"He looked like someone who would become something," one of his teachers said.
He, like many of his clansmen, does not like to talk about murder. He does not want to be associated with it. It is taboo. Anyone associated with killing is ostracised. In extreme cases, his family too.
For Robert Wanjala, blood transcends taboo. Blood transcends tradition. Blood transcends all. In his Mukhwea home in Kabuchai Sub- County, he sits pensively thinking about the attention that his son has brought onto the family.
He says he cannot disown his son.
"His mother abandoned me and went away while she was pregnant and only brought him back when he turned 18," he says.
At that time, Masten was already a man. A man with passions that few people understood.
"The only thing I knew he liked was football," one of his aunts told The Standard. "He was always with other players from Sosio Football Club. That is the only thing he said he enjoyed doing."
While in his father's house, he kept a quiet demeanour. Always on his own. Always in his own world. The only time he came out of his shell was when there was a game of football involved or a conversation around football.
When he was arrested, Masten was dressed in a football jersey.
"Apart from that, he was very hard to read," Robert, his father says.
There was something else to him.
A kind of unwillingness to get in, and most importantly stay in school.
When he first came back home, his father tried to enroll him at a local primary school.
"But he was not keen on this. He abandoned school and instead applied for an identity card after which he disappeared from this home for good."
Robert says the next time he heard of him was when he was arrested for the killings.
The trusted coach
By September 4, Masten had confessed to killing 13 children according to police. His youthful exuberance and knowledge of football endearing him to both children and their guardians. To them, he was the coach, a man on whose shoulders a lot of responsibility was placed.
Children who came to him for skill acquisition looked at football as an escape. As escape from poverty. An escape from abuse. An escape from all the pressures of their world.
For the dead, football ought to have represented freedom, but instead brought death in the most gruesome of ways.
Soon after his unsworn confessions, the Kenyan police labelled him a vampire killer. Held in close custody, nobody knows how Masten labels himself or whether he's at home with police label.
Most of those he's accused of killing were drugged and had their blood sucked out from their bodies, it was reported. A few others were strangled. Others died from blunt force trauma to their heads. The killings were spread across different counties; Nairobi, Bungoma and Machakos.
Nairobi, where he lived as an adult. Machakos, where he spent his formative years with his mother and in Bungoma, where he spent some months with his biological father.
In his 20 years of life, Masten, is caught up in a web of accusations that may entangle him for the rest of his life. His alleged victims, all of them young enough to be his younger siblings. Perhaps, some of them, like victims from Sosio Football Club in Bungoma and Young Elephants Football Club in Nairobi, thought through him, they'd have a better shot at life.
All of them now just memories within the hearts of those who have pledged to mourn them to eternity.