17 key issues at the heart of the BBI bill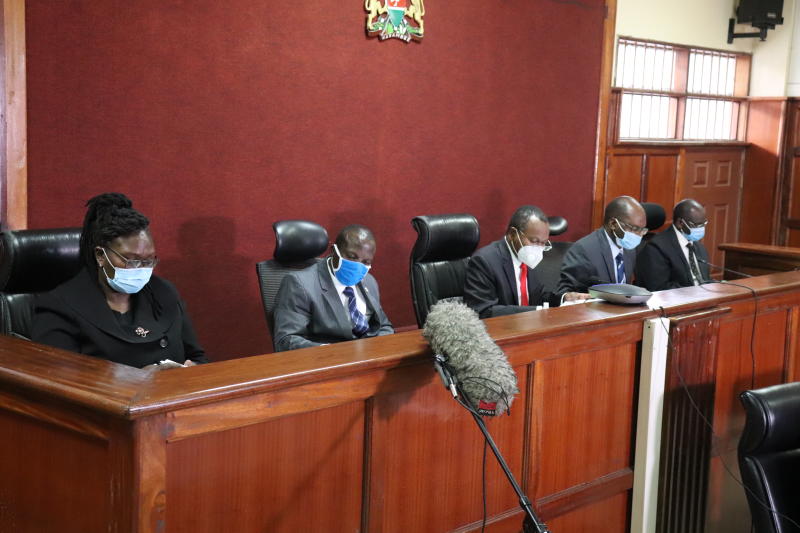 The Court of Appeal is expected to give a verdict on the nullification of the Constitutional Amendment Bill 2020 dubbed the Building Bridges Initiative (BBI) tomorrow, August 20.
On May 13, High Court judges Justices Joel Ngugi, George Odunga, Jairus Ngaah, Chacha Mwita, and Teresia Matheka listed key issues to determine the eight consolidated petitions that challenged the BBI process, top being whether President Uhuru Kenyatta could initiate a popular initiative as the Head of State.
In the 500-page judgment, the judges analysed whether the BBI as drafted and presented to County Assemblies and Parliament was in conformity with the Constitution and whether it amounted to a popular initiative that should be subjected to a referendum.
"We settled on the 17 issues as they form the centre of dispute surrounding the BBI initiative and forms the background of the final reliefs issued by the court," Justice Ngugi said.
Here are the 17 key issues that stand out:
1. What should constitute the basic structure of a constitution amendment
2. If the basic structure is established, what is its implication to the BBI process
3. What are the constitutional limits for the amendment of the constitution through a popular initiative? Who can initiate a popular constitutional amendment? Is the BBI in conformity with the constitution?
4. Should the president be directed to refund money used in the BBI process?
5. Was the president in violation of the constitution by commencing the BBI process?
6. Is there adequate legal backing to initiate popular initiative?
7. Is it permissible for county assemblies or Parliament to alter the existing bill sent to them?
8. Does the constitution envisage an omnibus bill or specific questions to be subjected to a referendum?
9. Was it unlawful for the Constitutional amendment bill to leave an independent health commission in the bill?
10. Is it lawful to set a specific number of constituencies as proposed in the BBI?
11. Is it lawful to directly allocate the proposed constituencies to specific regions?
12. Has the IEBC carried out national voter registration and can there be a referendum without this?
13. Is IEBC properly constituted and did they carry out proper signature verification exercise?
14. Is a legal framework in place to regulate the process of a referendum?
15. Was it a violation of the constitution to promote the BBI in the midst of the Covid-19 pandemic?
16. Should the president dissolve parliament?
17. What reliefs should the court give?
Download the BBI Judgement by all seven Judges - Civil Appeal No. E291 of 2021