Matiang'i puts officers on notice as locals cry over police brutality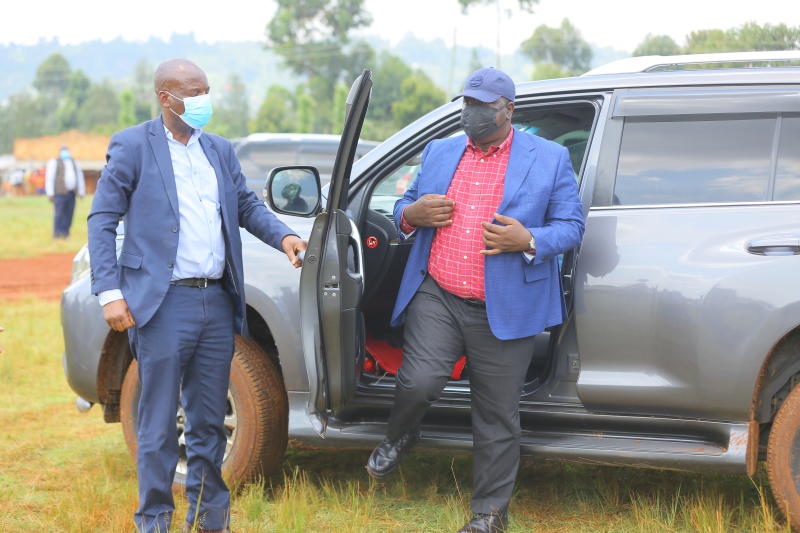 Interior Cabinet Secretary Fred Matiang'i has vowed to bring sanity to the police force in Kisii County following a spate of incidents involving officers in the area.
The CS was on a tour of the region where the residents of Rioma in Kitutu Chache South narrated the agony they have gone through at the hands of the officers for five years.
"Police is a disciplined force that should serve Kenyans with the utmost respect.
"The Police Internal Affairs Unit is handling all the issues raised and we expect to get a report on the same soon," the CS said when he visited Rioma Police Station.
The police station in Kitutu Chache was constructed more than 12 years ago after locals reported a series of robberies and killings in the area.
The CS was told that in the last year, two people were shot dead by police officers at the shopping centre bordering Homa Bay County.
Compromising position
Most of the bars at Rioma centre are owned by police officers in the region.
The CS who was accompanied by Inspector General Hillary Mutyambai said he was keen on addressing a recent incident in which a 16-year-old girl was shot dead by a police officer from the station.
Joseph Ombui accused police officers of contributing to the rising cases of broken marriages in the area citing different cases where they were found with married women in drinking dens.
"We have so many broken marriages here. The chiefs can no longer handle our issues.
"Men are arrested on flimsy grounds because some officers have taken away our wives," he said.
However, the IG called on locals not to attack the police and urged them to use the right channels in case they have any complaints.
"Let us find a better way of handling our issues. Respect is both ways. Our police officers are doing a good job but we will always deal with those who go astray," said Mutyambai.
Two weeks ago, a man who had been held at the station waiting to be transferred to a prison, died in unclear circumstances.
He had failed to raise an Sh8,000 fine for flouting Covid-19 rules.
The man, according to the police collapsed and was pronounced dead at a nearby health facility.
In July last year, residents of Rioma stormed the police station after an officer reportedly shot and killed a trader he accused of selling fake hand sanitisers.
Enraged residents pelted the station with stones, injuring five officers, and lit fires that damaged offices and police cars.