Petition to stop Matiang'i move declared urgent by labour court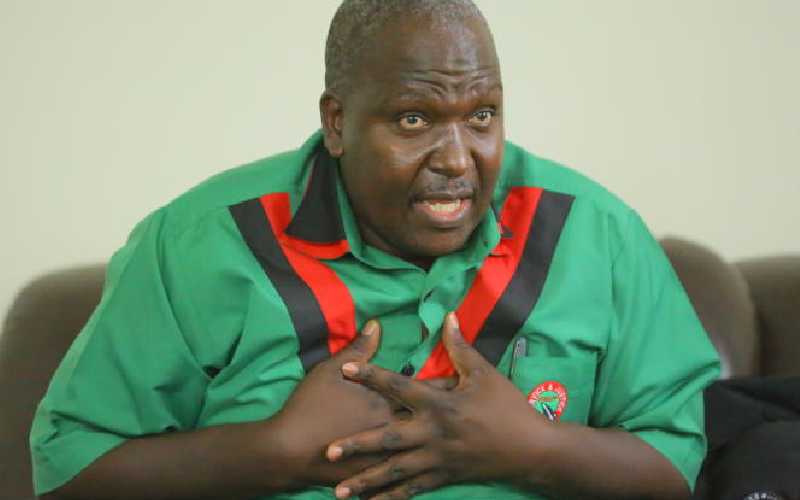 The Employment and Labour Relations Court has certified as urgent a petition challenging the appointment of former Knut Treasurer John Matiang'i as a Deputy Director of Education on May 7.
The petitioner, George Samson Marango, says the appointment is illegal and irregular since it was not done through a competitive process, and that it bypassed more than 250 county and sub-county directors of education currently serving at job groups N, P and Q.
Mr Matiang'i, a brother of Interior Cabinet Secretary Fred Matiang'i, quit his union post on April 29 and wrote to the Teachers Service Commission (TSC), asking to be released from service. TSC wrote back, saying it had no objection.
Education Cabinet Secretary George Magoha then wrote to the Public Service Commission (PSC), seeking Matiangi's appointment as Deputy Director of Education at job group R.
According to the petition, Mr Matiang'i last worked for TSC in 2007 -when he was a primary school headteacher at job group K- and had never worked as an education officer so he does not qualify to be a deputy director.
"Therefore, the move by the CS recommending the appointment of Mr Matiang'i without subjecting him to a competitive process will see him bypass over 250 long-serving and qualified education officers serving at job groups L, M,N, P and Q," says the petitioner.
Marango further argues that TSC's letter releasing the official was null and void since the commission was not fully constituted at the time.
The petitioner has asked the court to issue interim orders stopping Prof Magoha or his agents from transferring Matiang'i from TSC to PSC.
He also wants Matiang'i stopped from taking up the appointment until the matter is heard and concluded.
In his April 20 letter to the commission and which is attached to the petition, Magoha says Matiangi is a headteacher working with the TSC and that he has applied for transfer to the Education ministry.
"Mr Matiang'i has accrued extensive experience in teaching, management and administration in the education sector spanning over 30 years and the ministry has no objection since we have a vacancy in the grade of deputy director of education job group R against which he can be absorbed," he says in the letter addressed to the PSC chairperson.
But the petitioner says Magoha's letter is not factual in referring to Matiang'i as a headteacher since he ceased being a headteacher 13 years ago after he was elected as the Knut secretary for Nyamira.
"Mr Matiang'i has not been working as a headteacher or receiving any salary from TSC for the last 13 years after he was released to work full time for Knut," says the petitioner.
He adds that the appointment would prejudice more than 250 county directors of education because they were not given a chance to apply for the position and that the public was likely to lose confidence in the government for disregarding experience in recruitment.
At the time he resigned from Knut, Matiang'i said he was leaving to focus on his family and to complete his doctorate studies at the University of Nairobi.
"I am taking time off in service to focus on my family and to complete my studies at the University of Nairobi, which have stalled for some time now due to work obligations. This is not a decision to exit public service; it is a temporary, but necessary break to allow me to take stock of my journey and map out my next phase," he said on April 29.
Justice Maureen Onyango ordered that the status quo as of May 4 be maintained pending inter partes hearing.
The petition, filed by Njeri Ngunjiri advocates for the petitioner, is awaiting a hearing date at the Milimani Law Courts in Nairobi.