Agencies appeal for legal reforms in election laws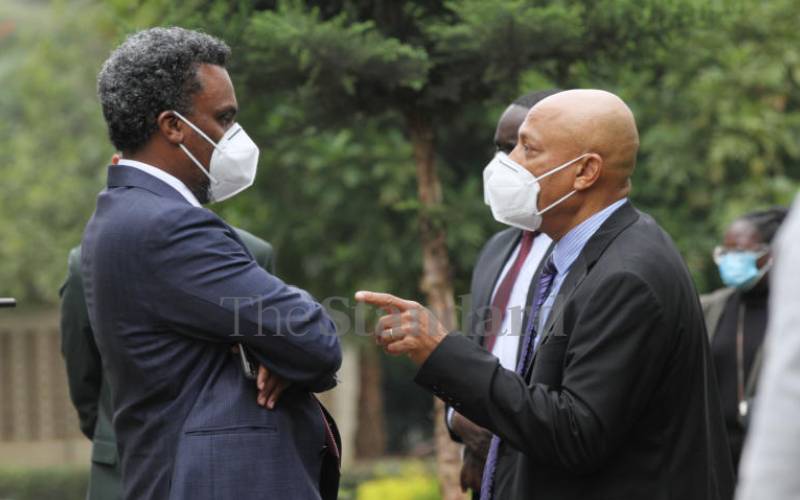 The electoral commission, anti-graft agency and Director of Public Prosecution (DPP) have indicated that it will be difficult to bar aspirants tainted with corruption from seeking elective posts in the next General Election.
The Independent Electoral and Boundaries Commission (IEBC), Ethics and Anti Corruption Commission (EACC) and office of the DPP noted that there are two articles in the Constitution that prevent them from barring aspirants linked to corruption or crime from vying for elective seats.
IEBC Chairperson Wafula Chebukati said there were individuals who have been flagged for violating Chapter Six of the Constitution but the legal loopholes give them the leeway to contests in elections.
Speaking at a media sustainability convention organised by the Kenya Media Sector Working Group on Saturday, Mr Chebukati noted that Articles 99 (3) and 193 (3) of the Constitution bar the IEBC from striking out aspirants' names from the ballot until corruption or criminal cases they are facing are determined by courts.
However, he said any Kenyan seeking to run for elective office faces automatic disqualification if he/she is bankrupt, imprisoned for at least six months, has abused a State office, is of unsound mind, has not been a citizen of Kenya for at least 10 years preceding the date of election, among others.
Article 99 speaks on qualifications and disqualifications for election as a Member of Parliament (MP), while Article 193 (3) stipulates the requirements for qualification or disqualification as a Member of County Assembly (MCA).
"A person is not disqualified unless all possibility of appeal or review of the relevant sentence or decision has been exhausted," says the law.
EACC Chief Executive Officer Twalib Mbarak revealed that 106 aspirants out of 16,182 were flagged for violating Chapter Six of the Constitution in 2017 polls. The IEBC, however, cleared them.
"We flagged 106 individuals but because of these loopholes there's nothing much that could be done. That's why we are appealing for legal reforms," he said.
"Through our intelligence as EACC, we know quite a number of suspected crooks who are planning to run for MCA seats. And because of the legal gaps that we've mentioned, don't be shocked that in the next government, most MCAs will be people of questionable character," he added.
Chebukati concurred with Mbarak saying: "Out of the 106 aspirants, two were barred from vying; they had convictions exceeding six months. The rest are cases ranging from investigations to court cases. That legal problem of not barring someone from running for an elective seat until they exhaust their appeal options came up. As a commission, we wouldn't want to block someone from seeking election, then the next day he or she takes us to court."
DPP Noordin Haji asked Kenyans to understand the challenging environment the IEBC and EAAC are operating in before blaming the two agencies for not cracking the whip on politicians linked to graft or crime.
"Our shortcoming is in the legislation," he said, citing cases of hate speech as some of the most difficult ones to successfully prosecute.
"If we don't come up with laws that severely punish hate speech, then Kenya could suffer another post-election violence in 2022 similar to that of 2007," said Haji.
The DPP said their hands were tied and blamed the Legislature for not coming up with firm laws that can bar corrupt people to ascend to power.
"We are not in the legislative arm, we execute the law as is. We are operating in a straight jacket based on the laws we've been given," said Haji.