Mum's the word in Chamber for garrulous MPs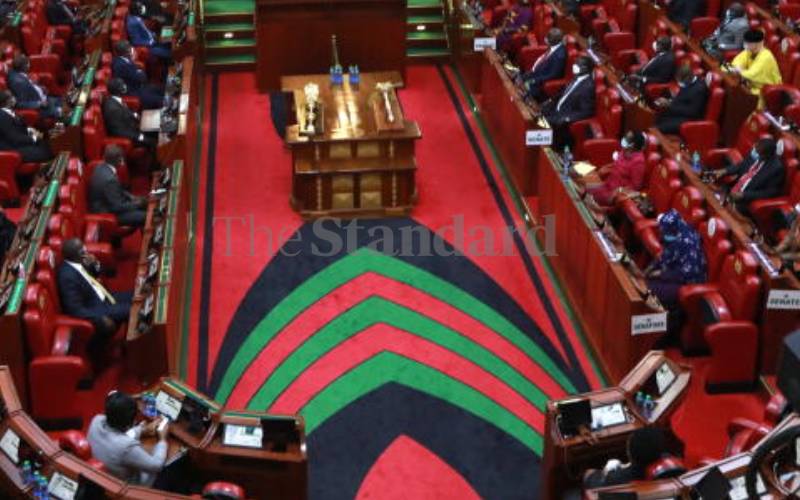 Oscar Sudi kept silent. George Aladwa, Imran Okoth and other bubu MPs were mute.
Sylvanus Osoro was the surprise of the week, finally breaking out of his shell. Under the cover of darkness - as his colleagues warmed their sofas at home and while the handful in Bunge snoozed off – the mhesh for South Mugirango learnt that no one would beat him if he opened his mouth to speak in the House.
"I stand at a very trying moment," Osoro began when his colleague Godfrey Osotsi offered him the chance to finally put his voice on the Hansard by seconding a report Osotsi had moved on Wednesday night.
"My name is trending all over as one of the members who doesn't speak in Parliament," he went on, letting out a stress-busting laugh meant to calm him down. Osoro's wait for his turn to speak had seemed a nerve-wracking ordeal, owing to how he sighed when he realised his voice hadn't failed him.
Had Osoro spoken hours earlier - when the wahesh didn't have to choose between sleep and a sitting allowance - then his colleagues would have congratulated him for uttering his first words. His shyness cost him.
After introducing himself, he eased himself into a pre-cooked cliché. The "naysayers" claiming that he opened his mouth only to yawn in Bunge, he said, "know little about the work Members of Parliament do behind the scenes".
As expected of someone who did not say much inside the Chamber, the South Mugirango mhesh then plagiarised Osotsi, regurgitating his remarks on the motion he had moved. To his credit, Osoro made use of synonyms to conceal the fact that the words he used had been uttered moments earlier.
Osoro spoke for five minutes, but he would have gone for longer had Bunge's prefects not muted his microphone. At the tail-end of his speech, he found a subject that was his cup of tea. One of his colleagues had allegedly been threatened over the report Osotsi had asked him to second. And Osoro did what he does best - calling out the "naysayers", his flailing right arm slicing the air before him.
It was one of the arms that failed him on that fateful afternoon in February when he lost a fistfight, embarrassingly, at a funeral. It seemed stronger when Osoro used it to emphasise a point on Thursday.
His voice, too, sounded nothing like one that would shy off debates in Bunge even though it lacked the fiery vigour it has at funerals and public podiums.
Throughout the five minutes, Osoro gave no reasons for playing bubu inside the Chamber, unlike Sudi, who made it clear that he doesn't fancy engaging people who speak "kizungu mingi". Being a lawyer, kizungu mingi may not be a problem for Osoro.
What took you so long, mhesh?