Speaker Muturi backs calls for health commission through Parliament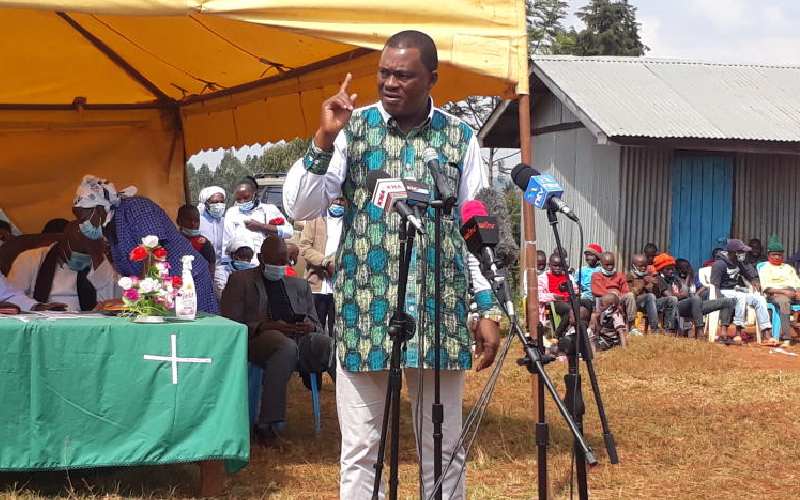 National Assembly Speaker Justin Muturi waded into the controversial proposed formation of a Health Service Commission (HSC) to address issues in the sector.
Although the proposal is already captured in the Building Bridges Initiative (BBI) spearheaded by President Uhuru Kenyatta and Raila Odinga, Muturi says it will help solve disputes between the government and health worker's unions. He also wants it established through an amendment to the Constitution before the term of the 12th Parliament ends.
Speaking virtually during the Kenya Medical Association (KMA) scientist conference in Kisii on Friday, Muturi said the Commission would also address the plight of health workers and bring sanity to the sector.
"There are far too many disruptions in our healthcare sector caused by the ever-striking healthcare professionals. Needless suffering and even multiple deaths have been caused by these incessant stand-offs between healthcare workers and the government," said Muturi.
The Speaker termed the unending misunderstanding between professionals in healthcare and the government is a big threat to the achievement of Universal Health Coverage (UHC), noting that the time to address the same is now.
"The lasting panacea to the persistent regimen of disputes between the government and healthcare-based trade unions is the formation of a Health Service Commission. Such a commission, with the finger on the pulse on emerging issues and short turn-around time, can cure the situation and bring greater sanity to our healthcare sector," he added.
Muturi also called on all stakeholders in health to engage the Departmental Committee on Health in the National Assembly and their Senate Counterpart Committee on Health and have the Commission established through an Act of Parliament.
Notably, Kenya's health sector has seen an increase in strikes by doctors, nurses and other health workers which has increased patients' suffering.
The Speaker backed calls by the Kenya Medical Practitioners and Dentists' Union (KMPDU) which has proposed for the sharing of functions in the health sector between the national, county governments and an independent Health Service Commission.
The union, during their presentation to BBI panel last year, proposed that the commission be mandated with handling issues affecting health workers that include access, capacity, needs, deployment, discipline and recruitment, equitable distribution and termination of health workers.
In their memo, the union said county governments should focus on Level I and II hospitals together with primary health care facilities including preventive functions while the national government handle levels III, IV, V and VI.
The union also proposed the creation of a National Referral Service Authority which will manage all the Level V and national referral hospitals under one unit of tertiary care.