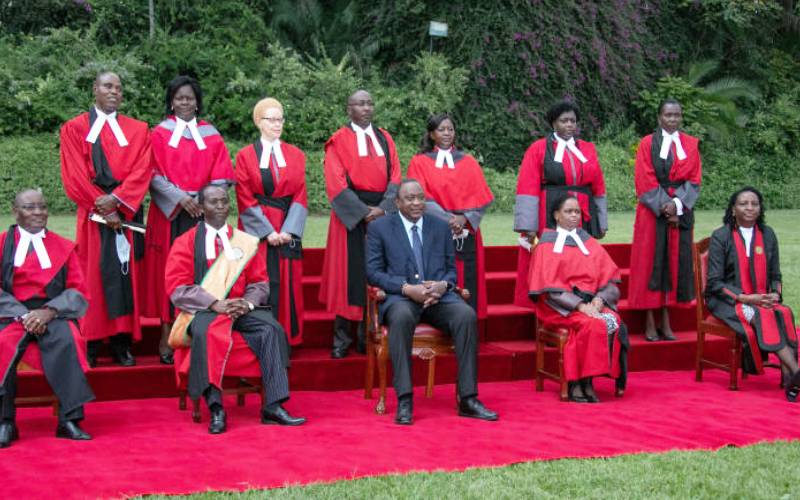 It is not the President's role to decide which judges to reject, Uasin Gishu Woman Representative Gladys Shollei has said.
President Uhuru Kenyatta turned down the nomination of six judges to the Court of Appeal and the Environment and Lands Court.
Speaking on Citizen TV today, Shollei said if Uhuru had problems with the six rejected judges he should have followed the legal process.
In a special gazette notice the President appointed 34 candidates nominated by the Judicial Service Commission to the Court of Appeal, Environment and Lands Court, and the Employment and Labour Relations Court.
Shollei said Uhuru should have presented a petition to the JSC and cite reasons for rejection.
"If the JSC finds there is a case, it would recommend the setting up of a tribunal. The law talks about fair administrative action and right to a fair hearing."
The woman representative added that Uhuru has had two years to present complaints to the JSC about the six.
"It won't be the first time a petition is presented to the JSC by the executive."
Also on the panel was Public Service CAS Beatrice Elachi who defended the President said if there's intel on the rejected judges, then Uhuru made an informed decision.
In September last year, the Director of Public Prosecutions accused Deputy Chief Justice Philomena Mwilu of frustrating the hearing of a petition seeking her removal from office.
Through the Secretary of Public Prosecution Dorcas Oduor, the DPP accused Justice Mwilu of secretly going to court and obtaining orders stopping the JSC from proceedings with the hearings of the case against her.
A brief detailing the bios of the candidates, which was attached to the gazette notice, simply stated that nominees left out of the appointments had not met the threshold and would be referred back to JSC.
Shollei said, "The Constitution does not allow the President to decide he has a bad feeling about a judge. it's not about his feeling. it's about what the law says."
The woman representative said the President is a conveyor belt in Judge appointments and that he defied the law in rejecting the six.