Uhuru asks Parliament to fast-track the passing of NHIF Bill 2021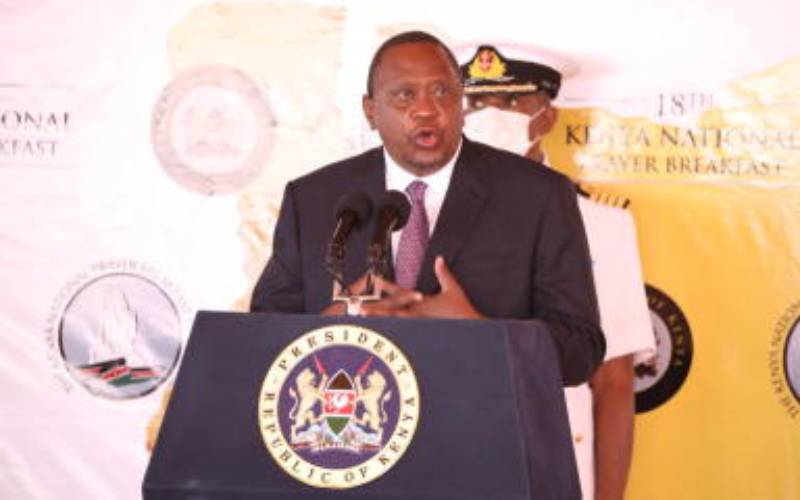 President Uhuru Kenyatta has asked Parliament to fast-track the passage of the National Hospital Insurance Fund (Amendment) Bill 2021.
The Bill that is still before the National Assembly and is yet to be debated on, proposes to make it mandatory for every Kenyan above 18 years to pay an annual contribution of Sh6000 the NHIF.
In his speech during the National Prayer Breakfast, the Head of State told the leadership of the two Houses that passing the bill will help citizens across the country have access to quality health care.
"There are proposals before you that will ensure that all Kenyans have access to health insurance. They will allow us to ensure people are properly taken care of, not just during the pandemic but always," said President Kenyatta.
President Kenyatta said health insurance is the basis of achieving Universal Health Care (UHC), one of his Big Four Agendas before leaving office in the next 14 months.
His remarks came after Emeritus Attorney General Amos Wako narrated his fight with Covid-19, and urged the government to ensure that low-income earners have access to health services.
"People die due to lack of health services, and as I was in the ambulance, I kept on wondering whether I would arrive alive," Wako said.
The proposed NHIF (Amendment) Bill 2021 which was tabled in Parliament for debate by Majority Leader of the National Assembly Amos Kimunya has elicited mixed reaction among stakeholders.
Workers' unions opposed the proposal, saying the changes will alter the original mandate and objectives of the NHIF.
Led by the Central Organisation of Trade Unions (COTU), the unions on Tuesday, May 25, said the National Health Insurance Fund (Amendment) Bill 2021 which seeks to amend the (NHIF) Act Cap 255 will give rise to an amorphous body.