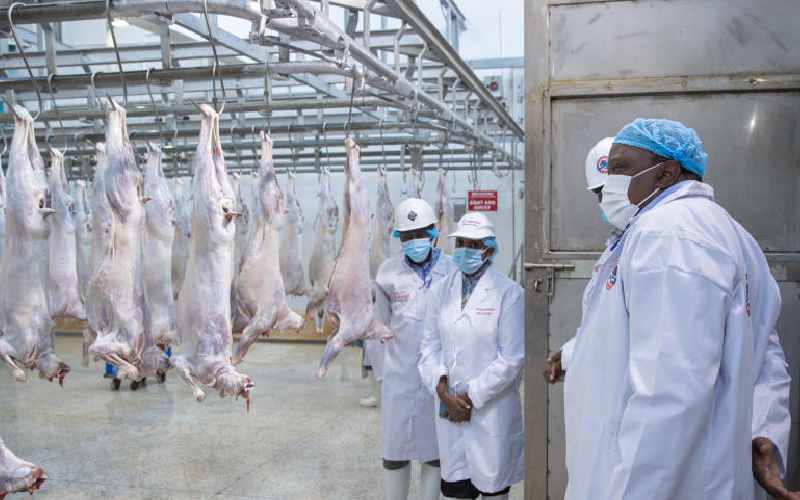 President Uhuru Kenyatta has given an assurance that the government will continue creating a conducive environment for businesses to thrive with the aim of creating jobs and wealth for wananchi.
The president, who spoke on Wednesday when he officially opened the Neema abattoir in Lucky Summer, Nairobi County, said the government will continue sourcing for new markets and expanding existing ones to enable farmers sell their livestock at good prices.
Neema is a Sh300 million slaughterhouse owned by 3,000 livestock farmers, and has an installed daily slaughter capacity of 12,000 and 6,000 small stock (goats/sheep) for local and export markets, respectively. Over 85 per cent of their products are sold overseas.
Uhuru said the recent re-opening of the Kenya Meat Commission was part of a long-term plan by the government to cushion livestock farmers from exploitative middlemen.
"This week I was in Athi River to re-open the Kenya Meat Commission and I said what we are doing is to ensure our livestock farmers will not continue to be exploited because of lack of markets.
"We cannot have a situation where someone has reared his livestock and when time comes to sell them they are offered peanuts, and because someone has trekked for long he just gives in to any price," he said.
He told Kenyan farmers that the government would extend the reforms being rolled out in the tea and coffee sectors to cover other areas among them livestock and maize farming so as to make agriculture a lucrative economic activity.
"Already due to the reforms we have undertaken in the coffee and tea sectors, our cash crop farmers are now getting good money," the president said, adding that the government would continue setting up abbatoirs across the country to ensure livestock farmers have ready markets for their animals.
"As a government, we will be putting up slaughterhouses in various places and I know together with those being put up by private investors, farmers will not fail to get good prices," he said.
The Head of State applauded owners of Neema abbatoir led by Mohammed Bonaya for the consistency and determination that has seen their business expand and provide jobs to many young Kenyans.
"You started small in 1973 here in Kiamaiko and you have been consistent. Today, together as 3,000 members, you raised Sh300 million to put up this huge investment. This is not an easy job and I congratulate you Mr Chairman together with your members," the president said.
He encouraged Neema to take advantage of the new Lamu Port and set up a similar meat processor in the area for the export market.
Mr Bonaya thanked the president for supporting livestock farmers, saying the government's efforts to create new markets were bearing fruit.