Justice knows no gender, CJ Martha Koome told as she takes over judiciary leadership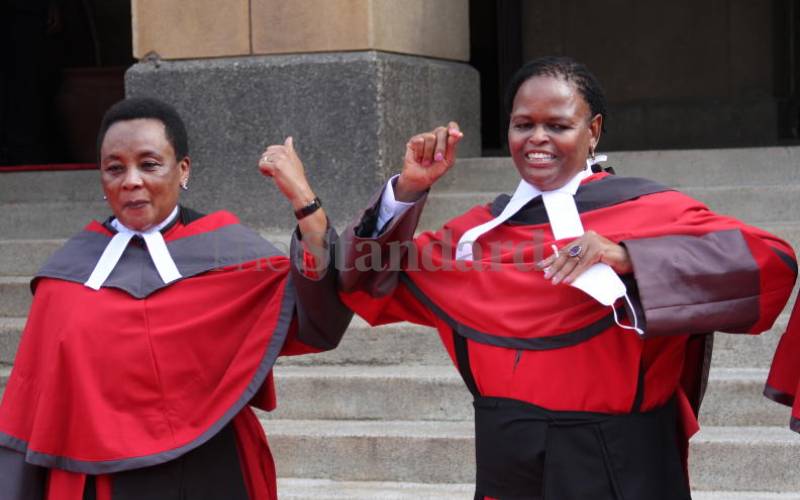 Chief Justice Martha Koome today (Monday) received the instruments of power from Deputy Chief Justice Philomena Mwilu who was the acting CJ.
The instruments include the Constitution, Judiciary flag, Chief Justice's report on the State of The Judiciary as at January 11, 2021, and the State of the Judiciary as of May 24, 2021.
DCJ Mwilu took over on January 11, 2021, to act as CJ and held the post for 134 days. In her speech, she said the role was, "the highest honour of my professional life".
Mwilu pledged excellent support and promised to continue preserving the dignity of the Judiciary by staying on her "constitutional lane".
Mwilu said her temporary tenure was not without challenges, especially in the middle of the Covid-19 pandemic.
"It was a difficult time. We were closing courts to preserve health and save lives," she said.
But Mwilu urged CJ Koome to look beyond her gender and focus on serving the people of Kenya.
"Forget about being a woman. Justice is neither male nor female, it could be transgender."
When she stood to speak, CJ Koome admitted that the achievement was no mean feat, but that the way had been paved by those who came before her such as Justices Joyce Aluoch and Effie Owuor.
Owuor was the country's first female State Counsel, Magistrate, High Court Judge, and Court of Appeal Judge.
She too admitted that CJ Koome's achievement is proof that society has accepted that "Women can do it".
Owuor narrated how when she first started at the Judiciary, there were no toilets for women.
She recalled how there was contention about what the title preceding the women's judges title should be - Mrs Judge, My Lady or Lady Justice.
Many were not comfortable with My Lady as it could at times be presented in a sexual connotation.
"There had to be a change. It has become a situation that society has accepted," Owuor explained.
She further encouraged CJ Koome, saying Kenyans have not misplaced their trust in having a female president of the Judiciary.
President Uhuru Kenyatta, speaking on May 21 after Koome took oath of office, said he was honoured to be the first Kenyan President to appoint a woman CJ.
Owuor continued, "As a jurist, as a mother, we know you ... you are friendly, prayerful and an administrator ... we know you can be tough and principled."
An ecstatic Owuor asked the female judges and other women in attendance to rise on their feet to congratulate Koome and show their support.
She pointed at the podium which had Judicial Service Commission chairperson Prof Olive Mugenda, Chief Registrar Anne Amadi, DCJ Mwilu and CJ Koom, saying there is no need to worry about the girlchild anymore, saying it is time to think about the boys.