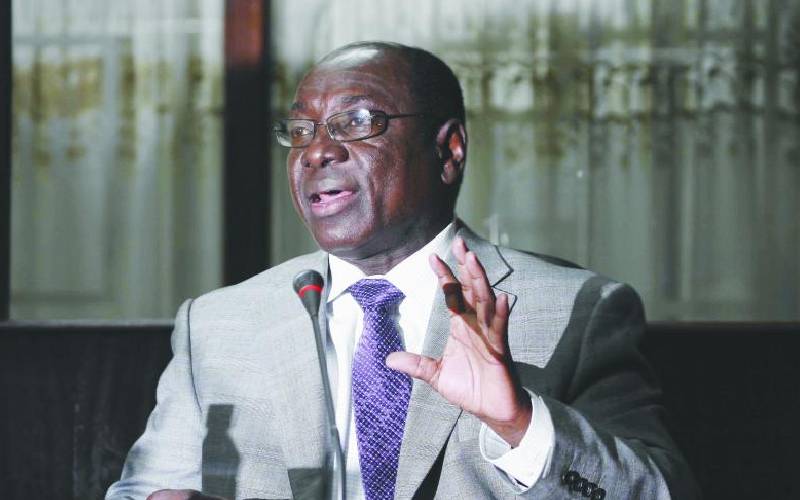 A former judge has lost his claim for Sh2.5 million legal fees from a lawyer he helped in handling an election petition in 2017.
Court of Appeal Judges Roseline Nambuye, Gatembu Kairu and Sankale ole Kantai ruled that former High Court Judge Muga Apondi should not claim the money from lawyer Philip Nyachoti since he had no direct instruction to appear in the election petition.
The judges set aside a High Court decision that had ordered the lawyer to pay the former judge the amount on account that there was no contract between them to justify the legal fees.
"The former judge could not file for bill of costs against the advocate in a matter where he was not on record for the petitioner who had filed the election petition. We find that the High Court erred by awarding him the costs which he was not entitled to," ruled the Appellate Judges.
The dispute between Apondi and Nyachoti started in 2019 after the election petition had been settled, with the former judge claiming that the lawyer owed him money for helping him in the case.
According to records filed in court, Nyachoti had been instructed by several clients to represent them in various election petitions arising from the 2017 General Election.
Nyachoti stated that in September 2017, Apondi approached him and volunteered to assist in prosecuting some of the cases which he accepted on the understanding that the former judge would be paid by the clients he was representing.
He submitted that he had no agreement with the former judge on legal fees since it was on a volunteer basis, but that when the election petition was concluded, Apondi sued him for legal fees for helping in the case.
He claimed that he suggested to the former judge to wait until he got paid by the petitioner so as to give him some money but he would not listen.
Apondi in his claim denied that he had volunteered to help Nyachoti, and that since he participated in the case on account of the lawyer's instructions, he was justified to demand the amount.
High Court Judge Weldon Korir agreed with the judge's submissions and ordered that the bill be assessed for the lawyer to pay Apondi.
The Appellate Judges however ruled that the judge was wrong in allowing Apondi to claim the money against Nyachoti since he was not the petitioner in the election petition.
"He was not the advocate on record for the petitioner in the election petition and therefore there was no client and advocate relationship to warrant the claim for professional legal fees," ruled the judges.
They added that an advocate who asks his colleague to help him in a case does not become the "client" to be compelled to pay legal fees.
Paul Ogemba