Njiiri: The witty senior chief behind school named after him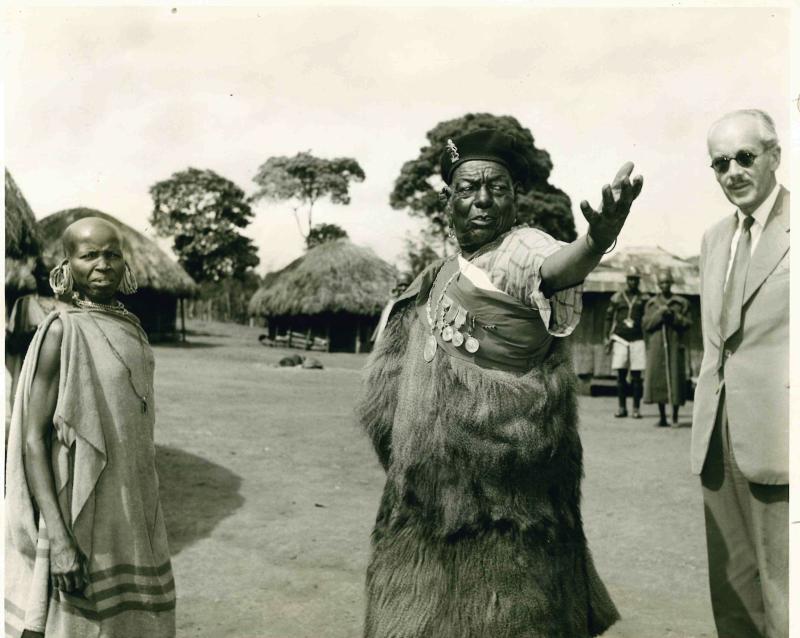 There were chiefs, and then there were colonial chiefs.
Karanja wa Njiiri was one such chief whose grass-thatched hamlet would attract the high and the mighty. When the chief was in a good mood, he would hold a baraza at his compound, where his 30 wives and their children waited for his word.
In 1957, at the height of the struggle for independence when the British troops were bombarding the Aberdares, not far from his home, the chief hosted acting governor R G T Turnbull at his home in Kigumo, Murang'a.
This historic visit captured in the priceless picture in The Standard archives, shows, Njiiri clad in an animal hide, displaying a chest full of medals as he gives the governor a tour around his compound, accompanied by one of his 30 wives who had a blanket. Other government functionaries watched from a respectable distance while villagers would not be allowed anywhere near the home.
This year is significant for, earlier on February 18, freedom fighter, Dedan Kimathi, had been hanged at Kamiti. The rebellious Mau Mau were being bombed out of the forest and another warrior, General Waruhiu Itote, had been captured. The morale of the fighters was very low.
But Njiiri will forever be remembered not because of the number of goats he had or one of his son's stepping down for Jomo Kenyatta as an MP when the latter was eventually released, but for a school which bears his name.
Njiiri outwitted three other senior chiefs, Michuki Njoroge, Ignatius Murai and Ndung'u Kagoi and chose the location of a school, just a short distance from his home and convinced them this was the ideal site. The following year in 1958, the school opened its doors with Peter Sanderson and his wife as the only teachers.
The school has in the last 63 years shaped the lives and destinies of over 15,000 students who have passed through it and remains one of the most sought after schools in Mt Kenya region. It has however changed its name from Njiiri's High School to Njiiri High School.
Take a quick survey and help us improve our website!
Take a survey