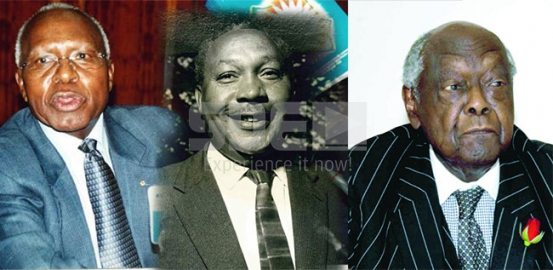 Chiefs who were beneath PCs and DCs but above fellow Africans, were loathed as they were seen as relics of colonial authority in Kenya.
Chiefs recruited people into labour, collected taxes and issued travel passes for which they were richly rewarded: free fertile government land, superior seedlings, cheap labour and trade licences made chiefs some of the biggest beneficiaries of colonial rule, besides having access to resources and connections.
Children of chiefs were luckier than common folk. Scions of prominent colonial chiefs included former Finance Minister Simeon Nyachae (Chief Musa Nyandusi), former Attorney General Charles Njonjo (Senior Chief Josiah Njonjo), Minister of State Mbiyu Koinange (Senior Chief Koinange), the late Arthur Magugu, former Finance Minister (Chief Magugu), former Githunguri MP Njehu Gatabaki (Chief Peter Gatabaki), lawyers Samuel and George Waruhiu Waruhiu (Senior Chief Waruhiu wa Kung'u whose murder in October 1952 occasioned the State of Emergency) and former Police Commissioner Bernard Hinga (Chief Hinga).
Other famous chiefs were Chief Njiiri wa Karanja (after whom Njiiris High is named) and Chief Luka Kahangara of Lari; the main victim of the infamous Lari Massacre during the 'Night of the Long Knives' on March 26, 1953.